Play Blu-ray and DVD Disc/Folder/ISO Image File Smoothly
Have you already dreamed of a perfect enjoyment of Blu-ray movies at home? AnyMP4 Blu-ray Player, the effective Blu-ray and DVD Playback software, can help you fulfill this dream.
Play Blu-ray Movies

With the latest Blu-ray technology, the professional Blu-ray Player can play movies on PC. Simply put Blu-ray disc into the Blu-ray drive, and the software will play the movie with high-quality sound and picture quality, even the 4K Blu-ray disc, Blu-ray folder (BDMV) and Blu-ray ISO image files are supported.

Play DVD Videos

In addition, this software can play DVD disc, DVD folder, DVD ISO image file, and DVD IFO file on computer. It supports playing DVD-ROM, DVD-R, DVD+R, DVD-RW, DVD+RW, DVD-RAM, DVD-DL, etc., from any region without hassle.
Play 4K UHD, 1080p HD Videos and Music Effortlessly
Play 4K Videos
Play 4K Blu-ray
Play Music
Play 4K Videos

As a universal media player, AnyMP4 Blu-ray Player also plays 4K and 1080p HD video files on Windows PC. 4K Ultra HD videos (MP4, MOV, WMV, MKV, WebM, M2TS, MTS, FLV, etc.) with H.265 codec are also supported. It brings you the best quality UHD and HD videos. You can enjoy the real high-resolution image.

Play 4K Blu-ray

AnyMP4 Blu-ray Player can also play the 4K Ultra HD Blu-ray movies. It can open 4K UHD (3840 × 2160 pixel resolution) videos encoded using High Efficiency Video Coding from BD-5, BD-9, BD-25, BD-50, BD-XL, BD-R, BD-RE, and more.

Play Music

In addition to Blu-ray and video, the Blu-ray Player software can also play audio files. Not only general audio formats such as MP3, AAC, M4A, WMA, OGG, but also lossless audio formats such as FLAC, WAV, ALAC are supported by this BD Playback software. Enjoy a clear and sharp playback of the audio files, and listen to your favorite music at home.
Impressive Picture and Sound Quality in Blu-ray Playback
Thanks to advanced image technology, you can get the best image quality from Blu-ray and 4K video. The Blu-ray Player software provides you with a flexible option to customize video effects such as hue, holiness, contrast, saturation, gamma. So, you can get fantastic home theater entertainment when playing Blu-ray movies.
The Blu-ray Player software supports surround sound 5.1 (Dolby Digital, DTS). With the 5.1 audio system, you can enjoy sound quality like in the cinema. The versatile Blu-ray Playing software brings you a real home cinema experience with perfect picture and sound quality.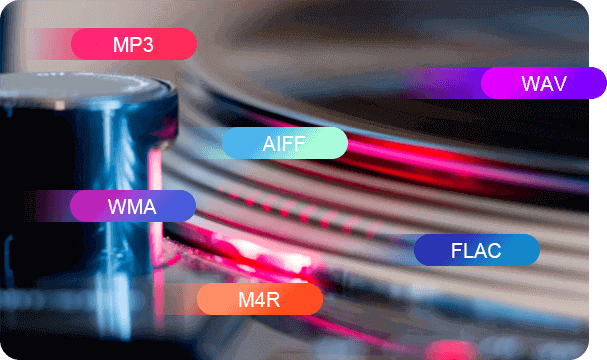 Build, Organize and Manage Smart Local Music Library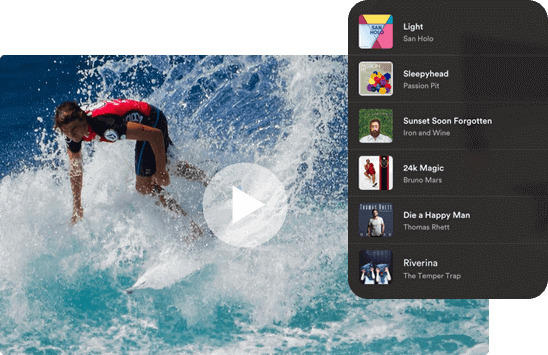 With AnyMP4 Blu-ray Player, you can manage your playlist intelligently. It provides playlists for Blu-rays, DVDs, videos and music for smoother playback for your recent files, and will create a recent playlist to keep all your recent playback history.
Besides, you can create a new playlist, and manage the playlist by adding or deleting songs or movies. Even for the Blu-ray and DVD titles, chapters and more, it can organize them into a playlist to watch the files instantl
Easy Control of Blu-ray/DVD/Video Playback
This Blu-ray Playing software has a clear and intuitive user interface and is very easy to use. Before playing Blu-ray, you can select subtitles and audio tracks, switch to full-screen mode. adjust the volume and more.
Custom playback progress

It lets you adjust the playback progress with the hotkeys to forward, backward, play, stop, and pause a media file.

Adjust audio effects

It lets you adjust the audio volume and choose an audio track, audio device and audio channel to suit your ears.

Professional visual effects

Video is dim? Just adjust the video hue, saturation, brightness, contrast and gamma to stimulate your sense.

Take snapshots

During playback, you can select scenes to take a snapshot from a DVD and Blu-ray protected movies.

Hardware acceleration

GPU acceleration support enables this software to open Blu-ray, DVD and other digital files quickly and smoothly on PC.

Customize languages

Not only English interface is offered, but also this software can also let you switch to other languages to use the user-friendly interface.
Tutorial and Screenshots of AnyMP4 Blu-ray Player
Step 1. Free download this universal media player software on your computer.
Step 2. Click "Open File" or "Open Disc" to add the Blu-ray or DVD, or the media files into this software.
Step 3. Once adding a file, it starts playing. You can control the playback from the top menus.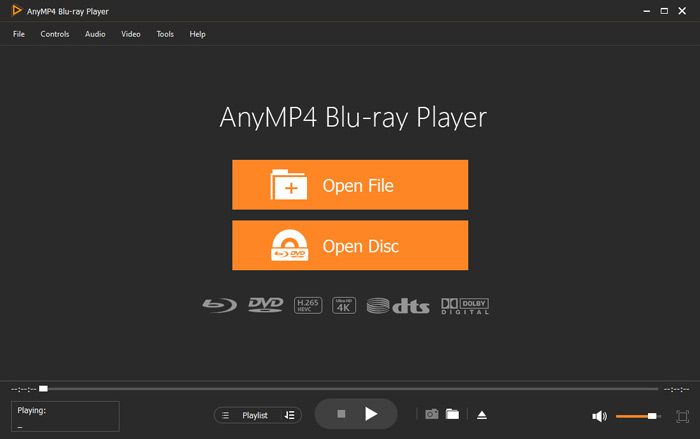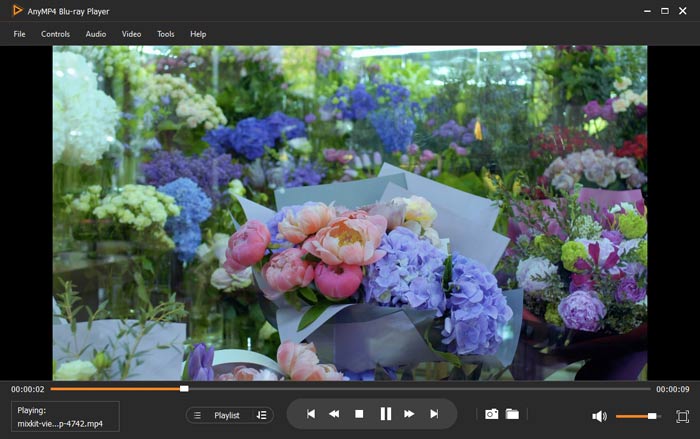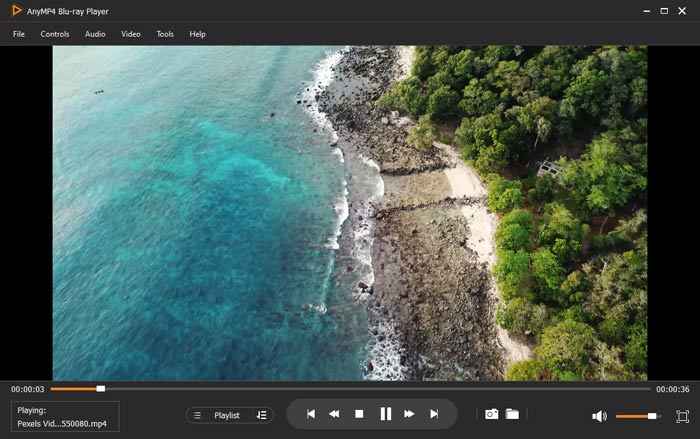 What Our Users Say
Olivia

I am a film lover. I really like the product and feel comfortable using it. I have been looking for the professional Blu-ray software to play Blu-rays for a long time. I have to say, this player is the most powerful Blu-ray software to play Blu-ray and DVD movies in Full HD quality.

Noah

What makes the Blu-ray software impress me a lot is the playback quality. It is designed for real ultra-high-definition entertainment on a 4K monitor or a 4K TV display. So I can connect my 4K TV to the computer via an HDMI cable for a real 4K viewing experience. That greatly enhances the visual impact while striking a chord in viewer's heart.

Liam

In a few short days, I can easily enjoy the most immersive media entertainment experience that is guaranteed to impress. AnyMP4 Blu-ray Player delivers extraordinary audio effect and supports Hi-Res audio output such as Dolby Digital, Dolby Digital Plus, etc.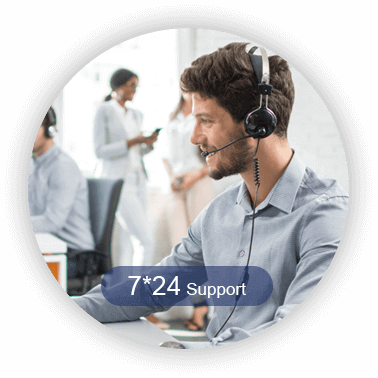 You May Like These Products
Screen Recorder

Screen Recorder allows you to record any part of your screen, record 4K/HD videos and audio, and take screenshots anytime.

Blu-ray Player

Blu-ray Player can play Blu-ray or DVD disc/folder/iso image file, and HD/SD video files with original sound and image quality.

Blu-ray Ripper

Blu-ray Ripper can rip any Blu-ray disc/folder/iso file to video like MP4, MOV, MKV, AVI, WMV, etc. and extract audio from Blu-ray.