Copy DVD disc/folder/ISO image files to DVD

Copy and back up DVD disc in the form of DVD ISO file or DVD folder on Windows PC
Burn DVD ISO image file stored in local hard disk or burn DVD folder to a blank DVD disc
Three modes of copying are provided to fully meet your needs, including Full Copy, Main Movie, and Custom
Customize output settings such as audio track and subtitle, remove or skip menu

AnyMP4 DVD Copy

$35.00 $26.25
Copy DVD as ISO file or folder to hard drive
AnyMP4 DVD Copy is an excellent burning program allowing you to backup your DVD to the hard drive on Windows 10/8.1/8/7/Vista/XP. You can copy and save your DVD as ISO file or DVD folder at super fast speed to the hard disk of your PC. This software allows you to create a backup and keep the DVD content safe. This method is advantageous because you can burn and play the ISO file or DVD folder on DVD in the future.

Clone ISO image file or DVD folder to blank DVD disc
With this DVD Copy program, you can clone your DVD/ISO image file/DVD folder to a blank DVD disc, such as DVD-5 to DVD-5 discs, DVD-9 to DVD-9 discs with 1: 1 ratio copy and clone so you can create and save a backup DVD. Then you can play back the DVD contents with a DVD Player anytime and anywhere. By the way, this software can also compress DVD-9 to DVD-5 discs with high quality.

Three Copy modes - Full copy, Main movie, and Custom
Before you copy the DVD, you have 3 copy modes, name "Full Copy", "Main Movie", and "Custom". You can choose a legal mode on the DVD Copy Program interface.
"Completely copy": Copy the entire DVD video including the credits, and the advertising, etc. "Main Movie": Clone the main movie without superfluous clips. "Custom": You can determine for yourself which video clips are burned.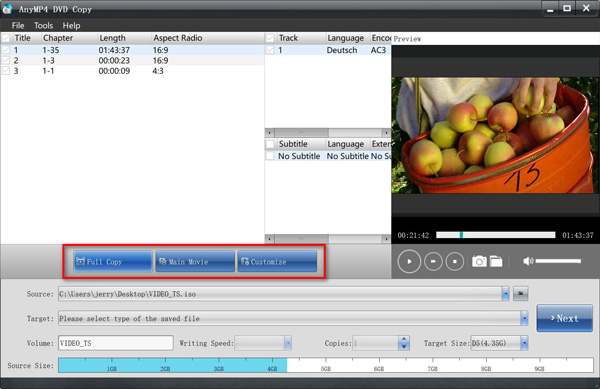 Multiple setting and editing functions are available
No matter DVD to PC or DVD to DVD, DVD Copy provides you several settings to make the best out of it. In general, you can preview the settings and backup to compare the source and output video. You can also capture your desired image as a screenshot and save it to your PC. If you only want to copy the main movie in the DVD disc, you can use this software to select and copy the main movie without cloning all the specific settings, intros, trailers, and ADs at the same time. By the way, you can select audio track and subtitle, remove or skip the menu as desired.

High copying speed and convenient operations
AnyMP4 DVD Cloner has the ability to use the dual core CPU to perform 200% copying speed. Therefore, copying the DVD with the DVD Copy Burning Program has become easy. In addition, it has a user-friendly and clear interface, which makes the operations easier with it. No need to worry about complicated operations. AnyMP4 DVD Copy is compatible with DVD + -R / RW, DVD-RAM, most DVD players and burners and Dual Layer 8.5GB disc.


Christina
With this DVD copying program, I can copy my purchased DVDs to other DVD and make backup. In addition, the DVD folder and ISO file can be transferred to DVD and saved.

System Requirement: Windows 10, Windows 8.1/8, Windows 7, Windows Vista, Windows XP (SP2 or later)
RAM: 2G RAM or more
CPU: 1GHz Intel/AMD CPU or above

Input Format: DVD Disc, DVD folder, and DVD IFO file
Output Format: DVD Disc, DVD folder, and DVD ISO Image file
Buy Now
$35.00 $26.25

25% OFF