Cut Video and Audio Online
AnyMP4 Video Trimmer Online is highly compatible with various types of video and audio files. Whether you get many video recording clips from camera, or save music files from popular websites, you can easily cut the file with the extension of .mp4, .mov, .mkv, .wmv, .flv, .mts, .m2ts, .mp3, .wma, .flac,.aiff, and more. Without downloading any plug-in or software, you can easily trim or cut the file directly and easily online.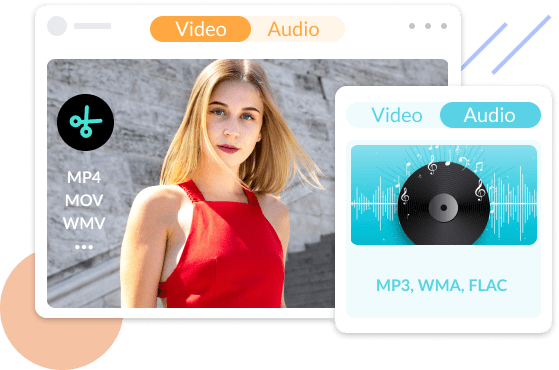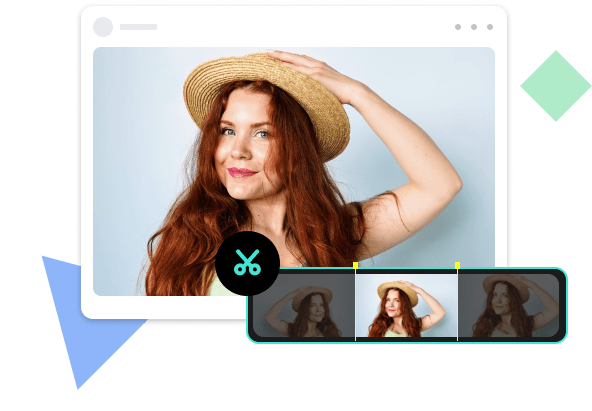 Trim Any Part for Apps
Do you want to cut out the movie title, or shorten one long video into several parts for arranging the? Or you may want to send a long video file via Email without limitation? This video cutter is what can help you exactly. It can cut any part of a movie or music, and remove or keep the selected part to save the clip. The customized output settings will let you export the trimmer file as the popular formats for any platform.
Why Do You Need AnyMP4 Video Trimmer Online
In life, there are various situations where you will need to cut a video or music file. Whether the video file is too large or long, or you want to cut and merge several clips, this video trimmer can help you exactly.
Video file is too long
The length of a video file may be limited by some platforms. So you have to cut them into parts for sharingg or uploading.
Video file is too large
Large file size of the video file can block you from uploading or sending via Email, WhatsApp, YouTube, Twitter, Facebook, Vimeo, etc.
Collect resources from different videos
When you want to publish a video blog (vlog) online, you need to collect resources from different videos and arrange them into one.
Create short videos for apps
Popular short-form video apps like TikTok, Snapchat, Instagram, etc., lets you get more likes by keeping the most impressive shots after trimming.
3 Steps to Trim a Video Online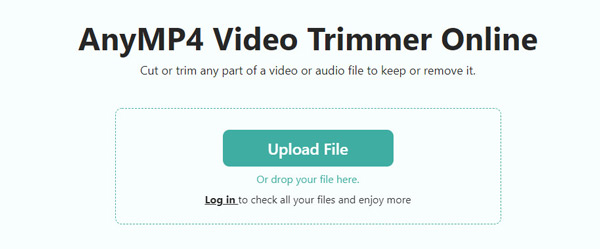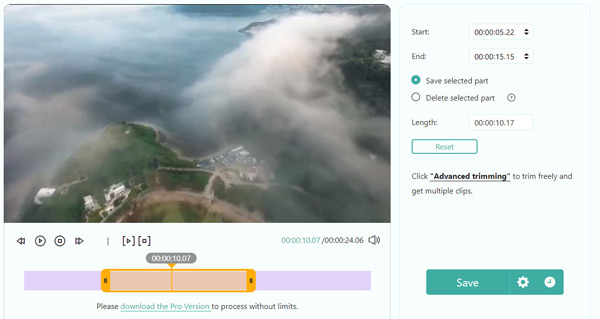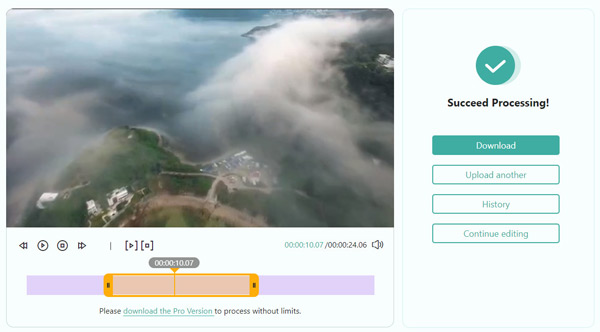 Step 1. Upload a video file

Click Upload File button to import a video file from your computer locally. You can also drag and drop a file to do that.

Step 2. Set the video length

Move the progressing bar in the preview window, or set the video start and end time at the right side to confirm the video length.

Step 3. Trim a video

Click Save or Delete selected part, and the gear icon to select the output format. Finally, click Save to start trimming and downloading the video file.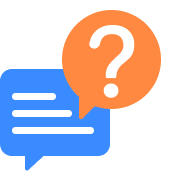 FAQs of AnyMP4 Video Trimmer Online
What is the difference between cropping and trimming video?

Cropping and trimming are different. Cropping a video file will change what parts of the video frame, which is visible throughout the entire clip. Trimming a video will change the length.

What is the best video trimmer?

There are various video cutters in the market like VLC, iMovie, Adobe Premiere, HandBrake, Kapwing, etc., but AnyMP4 Video Trimmer Online is a free and easy tool to cut parts of a video file. That is the best video trimmer for beginners.

What is a good length for a YouTube video?

To offer the ideal watching experience for YouTube audience, the suggested video length is 7 to 15 minutes. Commonly 10 minutes is the ideal one.

What is a good length for a TikTok video?

TikTok admitted that its users have short attention. So the recommended optimal video length is 20 to 35 seconds.

How to cut video on iPhone?

The trim feature is built-in on iPhone Photos app.
1.To cut parts of a video file, you just need to open the Photos app.
2.Then, select the video you want to cut, then hit the Edit option.
3. Move the sliders on both sides to adjust the video length.
4.Tap Done, and hit Save Video or Save Video as New Clip to cut the file.
What Users Say AnyMP4 Video Trimmer Online
Simple straightforward online tool. Upload my MP4 file, adjust the video length, and download the video clip.

Angelica Bernadette

It works! Well, this is the best video trimmer I was looking for. I upload the MOV files, move the slider to confirm the starting and ending points, then trim and save the video clips.

Kate M. Silva

I chop lots of video clips, love this app, fast and simple. Tks!!!!!!!

Wilson C. Czajkowski


Dig More Free Solutions
Free Video Converter Online

Free convert any video and audio into video MP4, AVI, MOV, MP3, GIF, etc., easily.

Learn More ->

Image Upscaler Online

Upscale image quality and enlarge image size at 2X, 4X, 6X, and 8X.

Learn More ->

Watermark Remover

Erase various types of watermark (text, object, logo, element, etc.) from a video file.

Learn More ->