Top 10 Music Converter Apps on Windows/Mac/ iPhone/ Android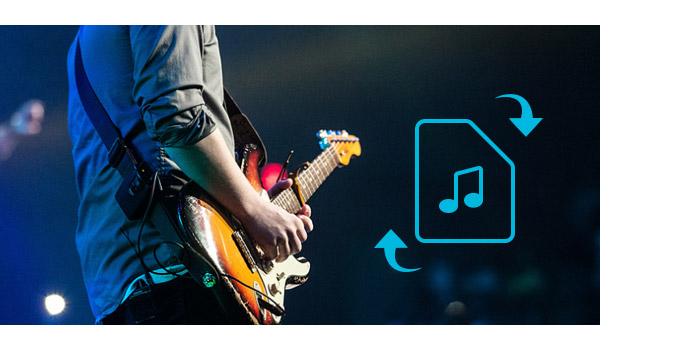 As you know, there are many audio output formats, the familiar ones are MP3, WAVE, WMA and etc. Whether to record music into MP3 or other audio formats depends on the file size compress methods. No matter which reason, it is normal to meet the situation, which you cannot open the audio files. What a pity it is without enjoying music just because music converting problems. Fortunately, there are many music converter Softwares you can get, with online and offline ways.
Part 1. Music Switch Software on Windows/Mac
To personalize music files accurately, operating the audio converter on Mac and Windows is the first choice, compares with the small screen on mobile photos. AnyMP4 is the professional music convert gallery, both amateurs and audiophiles can get solutions. There are two main audio converters, you can transform audio formats with ease.
1. AnyMP4 Video Converter Ultimate (Windows/Mac)
You can get some information already from its name, the ultimate converter means you can output any audio formats. Moreover, you are able to edit videos during converting music formats. The AnyMP4 Video Converter Ultimate can convert any video and audio files without lossless.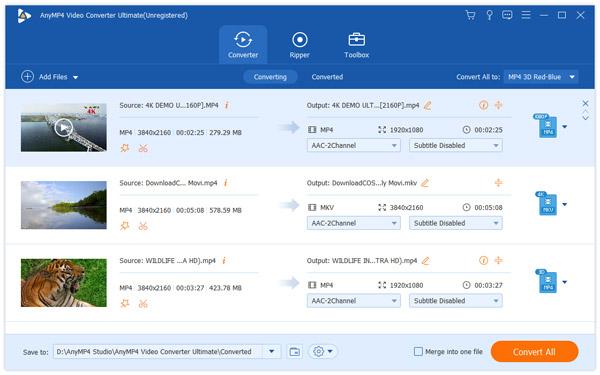 It support users to convert and enhance music over 200 formats with fast speed. In addition, the audio converter on Mac and Windows support external audio track and multi-audio track too. Thus, it is very easy to dub audio and then renew the video. If you want to clip, merge, rotate and add special video effects, just install AnyMP4 Video Converter Ultimate to experience as VIP.
Audio Formats Supported: MP3, AAC, M4A, WMA, FLAC, ALAC and etc
2. AnyMP4 Audio Converter (Windows/Mac)
If you regard AnyMP4 Audio Converter as any Windows music converter Software, you would regret for it. The professional music extractor is able to extract videos from Google, Facebook, YouTube and other video viewing websites into audio, with all music formats you can convert.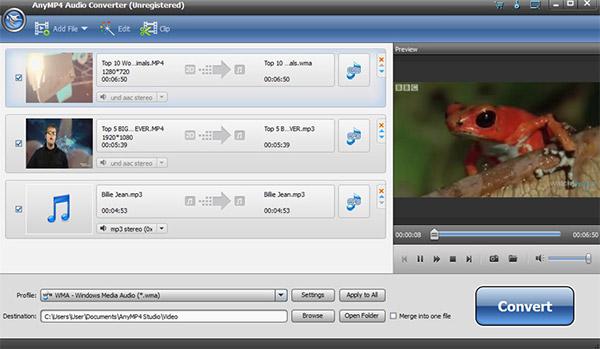 For those who are chasing for cool behaviors, the Windows music extractor enables users to clip and merge audios into a new one. Yes, you can handle music and videos within your computer screen, by few clicks. Not mention to transform audio file formats, AnyMP4 Audio Converter provides all popular audio formats with simple interface.
Audio Formats Supported: MP3, AAC, M4A, WMA, FLAC, ALAC, MP2, AC3, AIFF, AMR, AU, MKA
3. Pazera Free Audio Extractor
Pazera Free Audio Extractor offer simple interface and wide range of music converter MP3 and other formats. Just drag and drop music files, and then you can start audio converting. The free music extractor software can extract original video tracks to convert into audio files too. The sound quality will not be hurt on the audio converter. Furthermore, you can view and copy audio metadata on the music converter in detail, without registry.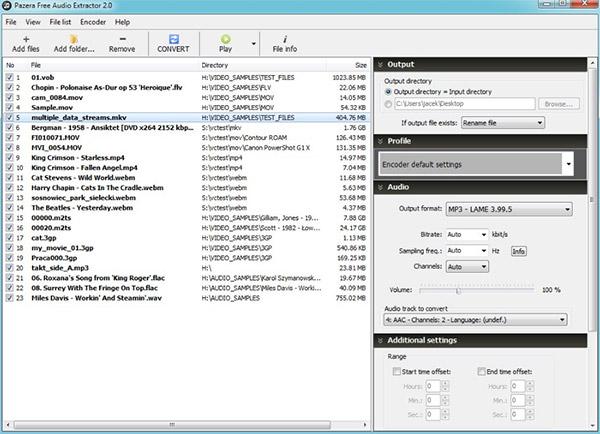 Audio Formats Supported: MP3, AAC, AC3, WMA, FLAC, OGG, M4A (AAC/ALAC), WV, AIFF, WAV
4. Switch Audio File Converter
Being the comprehensive multi audio formats converter, Switch Audio File Converter can batch convert music files at the same time. Or you can comprehend it that it is quick to convert and process audio files in batch. To maintain the latest requirements of extracting videos to audios, the Switch music converter editor provides many media file formats. The MP3 encoder, FLAC and WAV encoder support users with a range of sample tares. Moreover, you can add music tags on the audio converter, as well as extracting audio from videos.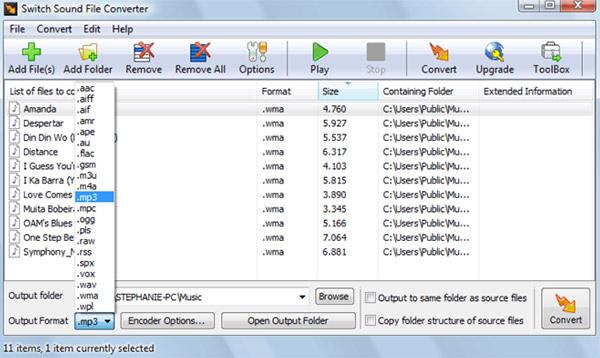 Audio Formats Supported: WAV, MP3, WMA, M4A, OGG, AVI, MID, FLAC, MOV, AAC, AIF, RAW, DVF, VOX, CDA, GSM, DSS, WMV
Part 2. Audio Converter Online
If you do not have enough hard disk space to store extra music converters, using online audio editor is also good. For those who have not convert audio files before, using music converter online can experience conversion in advance. You can get as much as sound file formats as downloaded music converters. Thus, it is proper to convert audio online if you do not need to edit music files frequently.
5. FileZigZag
FileZigZag is the online editor not only for music conversion, but also for video, image and documents. Thus, it is enough to use the online audio converter for daily file transforming. There are four main steps you have to follow, before converting music files online for free. Choose audios and then select sound formats, type the email address and finally click convert icon. These are the whole processes you need to do with the music converter free online. In addition, it doesn't matter whether you upload audios by URL or choose from Google Drive.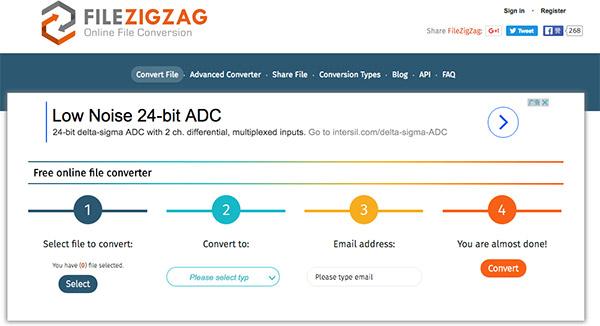 Audio Formats Supported: AAC, AC3, AIF, AIFF, AIFC, AU, FLAC, M4A, M4R, MP3, MMF, OPUS, OGG, RA, WAV, WMA
6. Zamzar
Zamzar offers over 1200 different file conversions, including audio converter, video converter, image converter, eBook converter and etc. with the fast speed and various file formats, users can alter music formats for free. From using the audio converter free online to receiving converted music emails, it will not exceed 10 minutes. The file size limitation is 50 MB, thus, remember not to process music files in large sizes. Additionally, it is acceptable if you import audios by URL or from hard disks directly, with the online audio processor.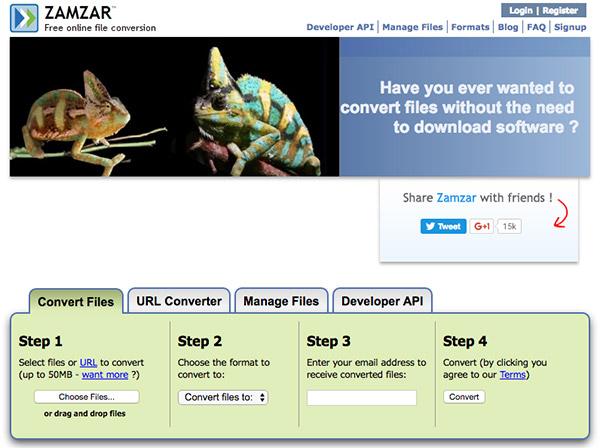 Audio Formats Supported: AAC, AC3, FLAC, M4A, M4R, MP3, OGG, WAV, WMA
7. Video2MP3
It is true that YouTube is the biggest platform, which people share and view videos in all types. What if someone want to extract soundtracks from one YouTube video? Now Video2MP3 free online music converter come out to solve it. With 192 kb/s speed of MP3 files extractions, users can get converted music converter MP3 files directly. Just type the YouTube URL address, and then wait few seconds for MP3 audios. Because MP3 audio format is universal accepted, so you can apply and edit it on any sound editors.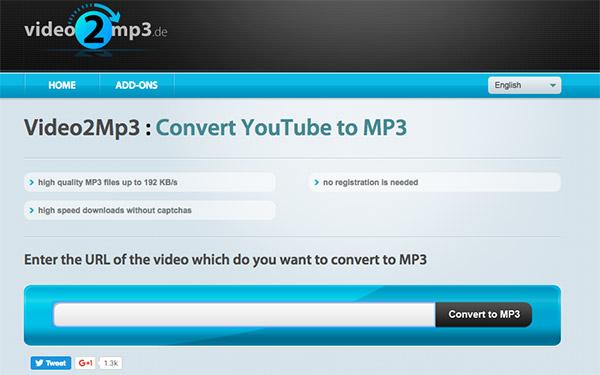 Audio Formats Supported: MP3
Part 3. Sound Changer Software on iPhone/ Android/ Google
What if people have to turn audio formats on iPhone or Android, because of the idleness of opening computers. Actually, as mobile phones have been important part of our life, more and more people prefer to use music converter app for iPhone and Android.
8. Audio Converter
Audio Converter is the Google plugin, with which people can convert audio files in free and safe way. Offered by online audio converter, the Google add on converter enables users get any music conversion. The file size of the music converter app on Google is only 16.46 KiB. You are able to convert audios in batch with the advanced settings. For instance, users can choose audio quality from 64kbps, 128kbps, 192 kbps to 320 kbps. Moreover, it is easy to edit track information.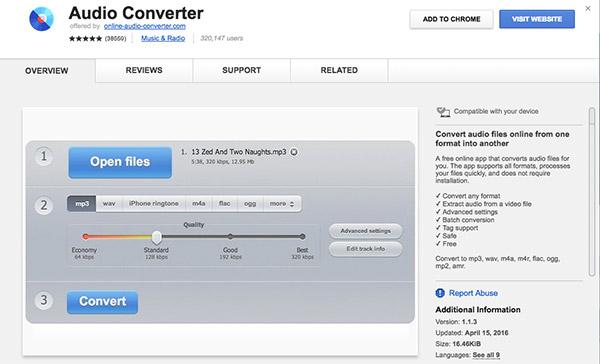 Audio Formats Supported: MP3, WAV, M4A, FLAC, OGG, MP2, AMR
9. MP3 Video Converter
For those who like viewing YouTube videos, it is necessary to install music converter for TubeMate, to extract audios from YouTube videos. You can edit Meta information, such as title, album and artist. There are 6 music extraction codecs for you to choose. The music converter apk provides users with high quality audios extracted. You can select videos in 3GP, FLV, MP4 and other formats. Additionally, the latest audio converter apk update external SD support with TM.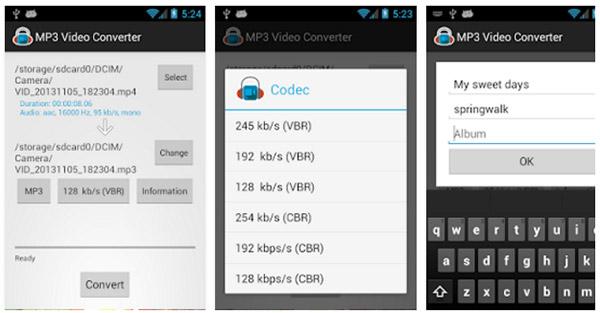 Audio Formats Supported: MP3, AAC
10. MyMP3
MyMP3 music converter app for iPhone enables users to extract videos to MP3 audio type. You can upload videos from iOS gallery in any video formats. It is easy to share converted audio to friends by email, or open with other audio editors. If you want to rename the audio, the audio converter app enables you to rename tracks and artist names. After conversion, users can listen converted music in background of iPhone, just as the original audios.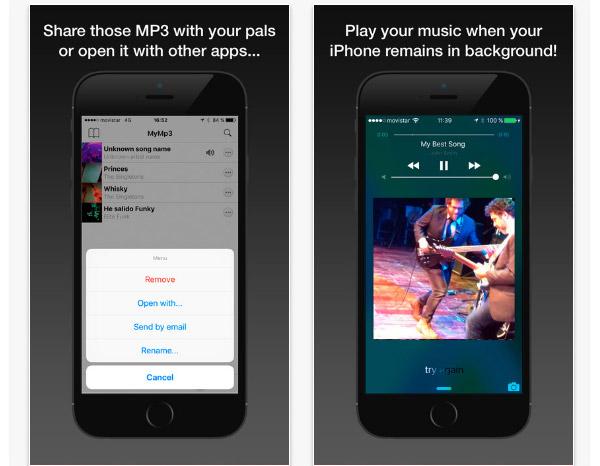 Audio Formats Supported: MP3