6 Best Audio Joiner software to Combine Audio Files As One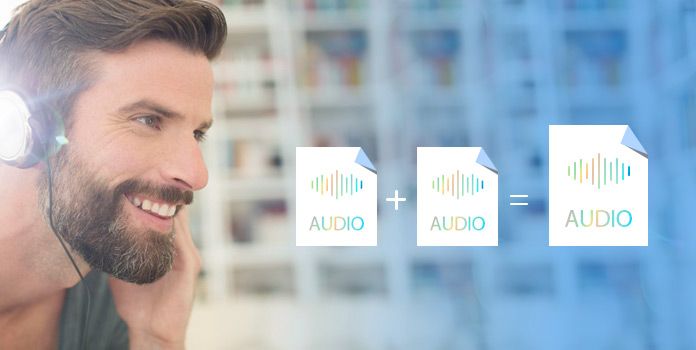 In order to join different audio files as a whole, you need to have an audio joiner compatible with all the audio formats first. If you are a musician or familiar with audio files, you should know some audio codec are not used for free, such as AC3. Another problem is the best format you should choose for your device. The article explains the best audio combiner software you should choose for different requirements. Just check whether the information is useful for you to get the desired software. If you have any query, you can feel free to share your idea in the comments.
What Should Be The Best Audio Joiner?
Even if the article provides a list of audio mergers, it is still difficult for you to choose the right one. You need to know what the best audio joiner should be first. Here are some features and the reasons you should know.
1. Compatible with most of the audio formats. Just as mentioned, when you need to use it to combine the WAV from CD, download MP3 online or capture Dolby AC3, you need a powerful audio combiner to support all formats.
2. Extract Audio Files from Multiple Files. Some of the audio files might come from video, which you have to extract them from the video files first. The feature to get the audio files out from the video should be an important one.
3. Support external audio track and multi-audio track. If you have to need to join audio files for movies, you have to use the software to add audio tracks to movie for enjoying better and make a wonderful video with your own audio.
6 Best Audio Joiner Software
Most of the audio joining software only supports MP3 files only, which is the most frequent used audio format. But audio joiner is more than MP3 joiner, just learn more detail about the best audio joiner software as below.
1. Best Audio Joiner Software Recommended
AnyMP4 Video Converter Ultimate should be the ultra-solution audio joiner. The software is able to download audio files from online streaming sites, rip music files from CD and DVD, and even extract audio files out from MP4 and other video clips. What is more, the software supports external audio track and multi-audio track.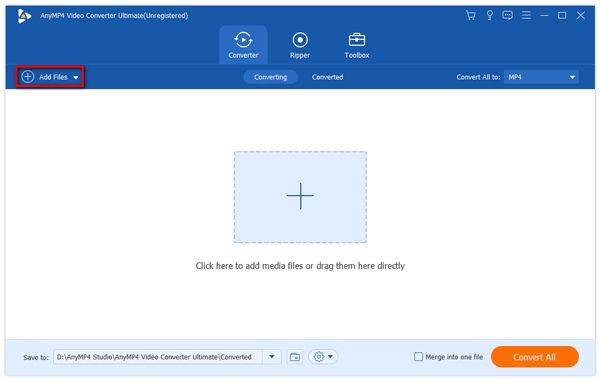 And then you can use the audio joiner to split or merge different audio clips into a ringtone or a song for yourself. It is Compatible with various audio and video formats, you can add MP3, WAV, AAC, AIFF, WMA, and more audio tracks to movie for enjoying better and make a wonderful video with your own audio.
2. Helium Audio Joiner
Helium Audio Joiner is free software for Windows. The software provides comprehensive support for a large range of source and destination formats: AAC, FLAC, M4A, M4B, MP3, MP4, MPC, OGG Vorbis, Wave, WAV Pack and WMA. The users can also insert silence between the different tracks and analyze the output. Another useful feature for the audio joiner is the ability to add tag information for the output audio file. You can give the audio title, genre, year, comment, artist, and album name. And then for FLAC and MP3 formats the users can also request to check and analyze result. It should be one of the selected free audio combiners you should try on Windows operation systems.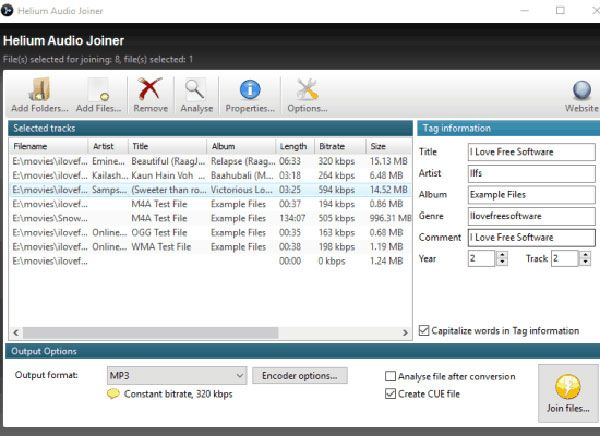 3. EArt Audio Editor
EArt Audio Editor is an all-in-one Audio joiner, editor, recorder, converter, splitter and player. There are multiple effects for audio transition and filters to any selected portion of audio file. What is more, you can also record audio from a microphone or any other available input device and save to different audio formats. If you have lots of CD files, you can use the audio combining software to open CD tracks for editing and format conversion. Just as Helium Audio Joiner, you can also add silence or noise between two audio files. Once you complete the single audio file, you can add Album, Artist, Copyright, Genre, Title, Year and other information to the file.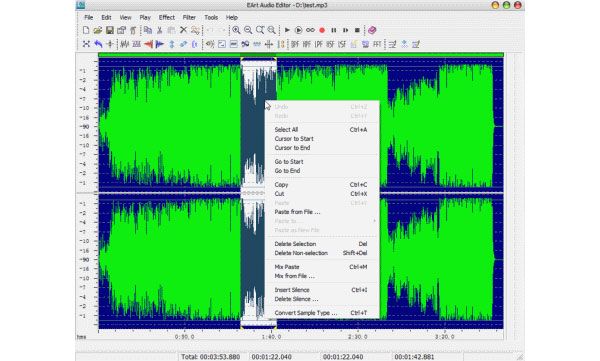 4. Audio Convert Merge Free
Audio Convert Merge Free is able to merge multiple music tracks and audiobook chapters into a larger one with CD quality. The supported format is WMA, MP3, WAV, OGG and other audio files. It is a super easy audio joining software and powerful audio converting tool that make ringtone or create something special for your portable device. Many customized and frequently used presets are provided to adjust the output audio quality you want, such as the parameters for Stereo Quality, Joint Stereo, High Quality Mono, Dual Channels, Bit rate presets. The final reason to choose the audio merger is the quality, which does not compress or change the audio quality of merging files.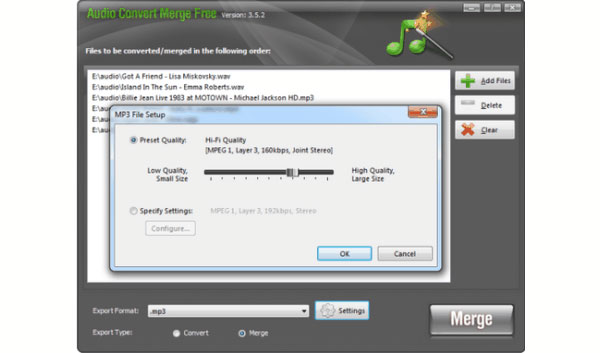 5. Weeny Free Audio Cutter
Weeny Free Audio Cutter should be another audio merging and splitting software for you. The software supports MP3, OGG, WMA and WAV files as the input audio formats, the DRM protected WMA files excluded. Because of the built-in audio editor of Weeny Free Audio Cutter is very useful for creating custom ringtones or managing long audio recording files. Another reason to choose the software should be the different parameters you can choose to adjust the audio files, such as the sampling frequency, channel mode and audio bitrate. Just add multiple audio files into the list, and merge these files into one audio file with the software now.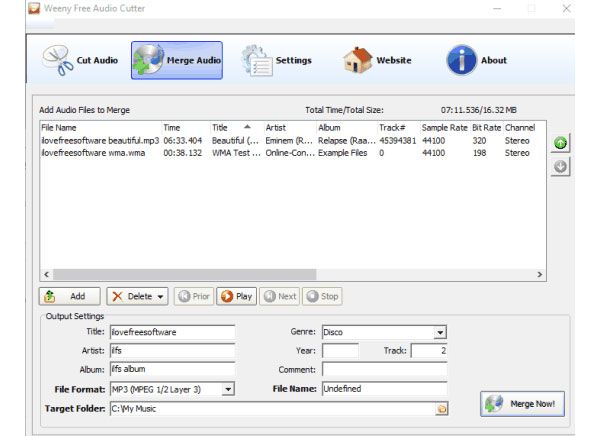 6. Shuangs Audio Joiner
Shuangs Audio Joiner is a simple audio merging tool to combine WAV, MP3, WMV and other various formats. For the freeware only provides three audio formats, WAV, MP3 and WMV. Another shortage for the software is that it brings a single output configuration for bitrate adjust only. Also, the absence of a built-in audio player is the other notable considering that sometimes you might need to preview the sound files and decide whether it's the correct file order or not. Just in one word, if you need some simple audio joiner to combine WAV, MP3 and WMV, you can download the software for Windows to have a try. Or else, the software might not be useful for you.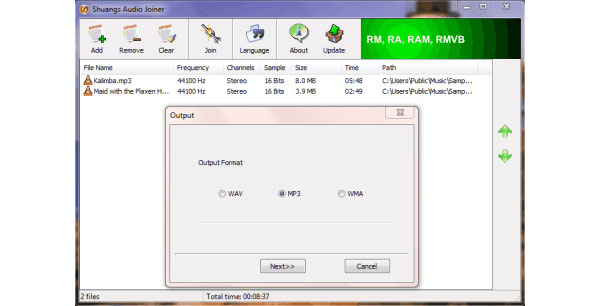 Conclusion
In order to join the different audio files together, you can choose hundreds of audio joiners from Google or other search engine. The section provides five most frequently used free audio joiners that supports more than MP3 files. But in order to create a special lyric or ringtone, you have to download the audio ware online or rip from DVD, Video Converter Ultimate is the versatile soft to achieve the desired files with few simple clicks. If you have any query about the favorite audio joining software, you can feel free to let me know in the comments.