Top 5 Video Splitter – Trim and Merge Videos in Free Way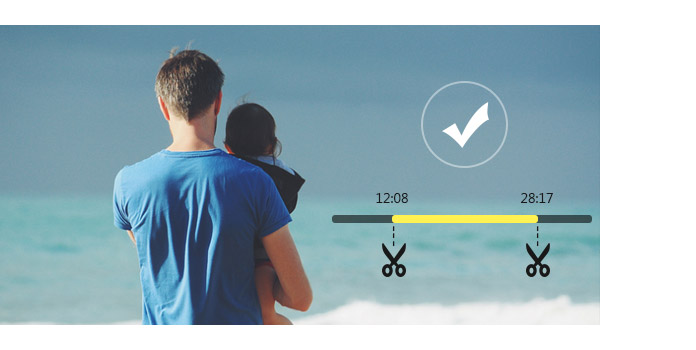 Video is the tool to record memory, no matter the past is funny or awkward, you can always rediscover previous time with somebody. Or you can save favorite segments about actors or actresses from YouTube. If you really love some parts in the movie, you can seek one video splitter to cut and merge in easy way. Splitting videos is similar with paper cutting, which use scissor to divide one complete object. There are many video splitter application online and offline, to cut and merge video pieces. For people who just need to split videos for fun, using free video splitter is a nice idea. Furthermore, It will be sweet if you cut and merge segments recorded about someone, and then send it as a present. Or you can paste humorous behaviors, with the voices and words create by yourself.
1. Windows Movie Maker
Windows Movie Maker is the video splitter freeware, with which users can trim and merge video pieces freely. Moreover, it is available to add texts, transitions, movie effects and so on. There are many options you can get. If you have not customize videos manually before, you can try AutoMovie theme. The AutoMovie theme enables people to set pictures and videos, and then the Windows Movie Maker will finish the rest things.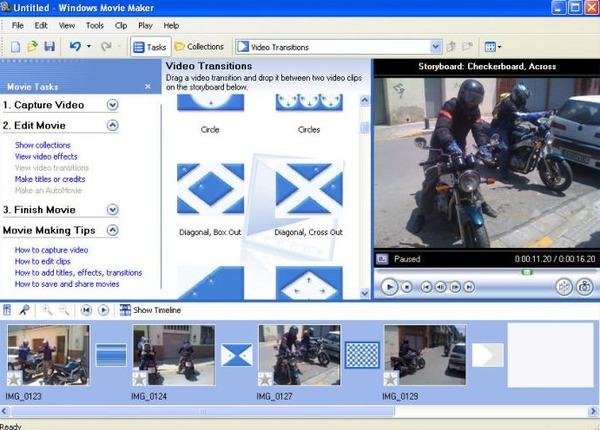 1. There are two ways to import images and videos, from your Windows computer or DSLR.
2. You can edit with the video trimmer of splitting, trimming, speeding up and slowing down.
3. It is easy to edit audio of the volume, fade music and so on during splitting videos.
4. Among each video contline, users can drag and drop video transitions to add more fun.
5. The Windows movie splitter allows users to share videos to friends, or post YouTube, Facebook or other video sharing platforms.
6. You need to install the video splitter free application on Windows 7/8/ Vista/ XP.
Though you can get various output video formats, the moviemaker crashes a lot. You cannot get latest video editing tools with the video cutter freeware. However, Windows Movie Maker is enough for those who do not have too much requirements towards gorgeous movies.
2. Video Cutter
Being the free video split editor, Video Cutter can process movies as good as other video trimmers. You can crop, rotate, trim and make other video editing effects with the video splitter freeware. Video Cutter promises that users do not need to buy a license, or pay for extra features. Moreover, the security service of Video Cutter is also great. Video Cutter online editor will delete video files few hours later after you cut. Thus, feel free to manage the online video splitter application.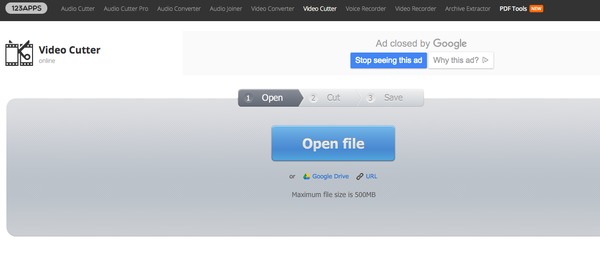 1. There are three ways to upload videos, by URL, Google Drive or your computer disk.
2. The maximum file size is 500 MB, thus, it is not available to split movies.
3. You can use crop tool to frame split videos, both on the desired area and frame proportions.
4. It is acceptable to rotate videos in 90, 180 or 270 degrees, especially for landscape mode and vice versa.
5. Video Cutter supports all video formats. You can change video quality and formats too. The only reason you cannot open the video is that it has been damaged.
With the easy to use interface, it is obvious to cut video into pieces. Moreover, you can add Video Cutter to Chrome, to trim videos more easily. The Video Cutter is just one part of 123Apps. Actually, you can use audio cutter, audio joiner, voice recorder and other online editors, to process video and audio with ease.
3. Pixorial Movie Creator
Pixorial is one of the video editors of Lifelogger, to manage your video memories in large free storage room. You can view and share videos on Lifelogger with others. If you want to edit video into several parts, you need to sue Pixorial Movie Creator to customize movies. Moreover, it is also available to share and edit images. With 1 GB free storage space, Pixorial Movie Creator is a nice choice.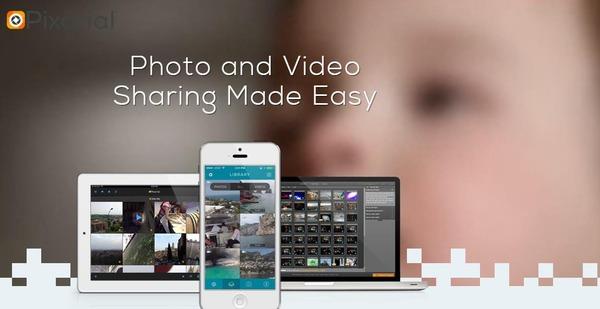 1. You can get over 500 music tracks to add on the cut videos.
2. Pixorial Movie Creator supports multiple formats to convert.
3. It is able to trim, rotate, add captions and movie effects with the video splitter editor. Moreover, adding transitions, title blocks, credits, overlay text, music tracks is also available.
4. You can get edited videos in the video library. Thus, even though you have not finish editing, you can always open and then process videos.
You can create new movies or upload videos from your computer to manage. The whole icons are clear with one or two clicks. Thus, you can sort out videos to upload to the free video splitter cloud storage room.
4. Video Format Factory
Video Format Factory is the popular video splitter apk among Android users. You can manage both videos and audios in simple interface. No matter you need to convert video types or edit video effects, the video splitter Android application can always satisfy you. In addition, if you want to experience more video editing services, you have to buy in-app products for $2.88 per item.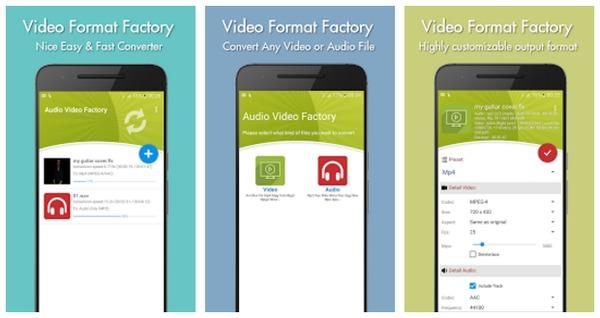 1. You can convert videos and audios in all media file formats.
2. Video Format Factory offers codec, aspect ratio fps, bitrate, customizable size and other media filters.
3. It is acceptable to split videos and then extract audios from it, with selected audio formats.
4. With highly customizable output formats, you can view and edit metadata in details.
5. There are many presets from all famous formats, with which you can apply with one click.
The main four icons of Video Format Factory contain remove, share, info and play. Though you may consider the video cutter is simple, but it is already enough to cut videos and get media conversions.
5. Video Cutter & Compressor
Video Cutter & Compressor work both on PC and Android mobile phones. You can use the video editor to trim and compress movies, on the basis of clear interface. The Windows video splitter app provides many media editing filters. Though will cost you $1.9 per item. You can process images with the movie cutter as well.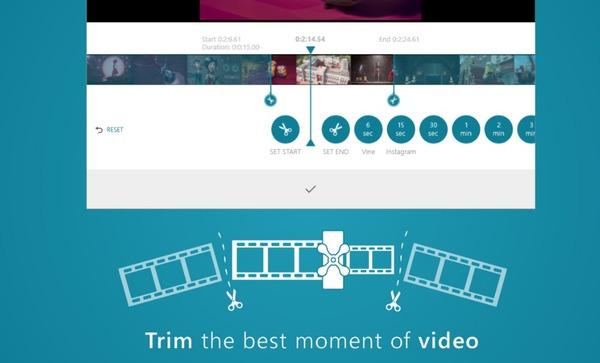 1. There are many filters, including brightness, contrast, saturation, trim, convert, compress, volume, resize, adjust resolution and change media quality.
2. If you trim and compress large-scale videos, the video cutter Widows app will damage their quality and resolution.
3. Only Windows video split editor can change video aspect ratio, blur background, scale, rotate, and move video. In addition, you can get new render and recorder on Windows video cutter too.
4. The operating system of the media editor works on Windows 8.1/ 10, as well as Android phones.
Video Cutter & Compressor can act as a server after you connect the Internet. You can also use webcam to get photo and video resources. If you installed the video trimmer on Windows 10 computer, it means you can share with ten people. It is really a big deal.