Top 10 Video Joiner Software to Merge Multiple Files For Different Devices

As mention about the video joiner Software, you should know more detail about the usage for the video first. For MP4 is the most frequently used video format for multiple devices, you can use the MP4 joiner to smartphone, computer and online streaming sites. But when you have to combine different video formats, or use the videos for special device, you still have to find a suitable video joiner according to your requirements. The article explains the top 10 video joining Software you should know to merge multiple video files for different devices. If you have any query about the Software, you can feel free to let us know in the comments.
AnyMP4 Video Converter Ultimate
AnyMP4 Video Converter Ultimate should be the most professional video joiner for you. When you need to combine different video clips to a certain device, the program provides multiple presets for different types of devices with the optimal parameters. And you can also enjoy the other excellent features of the video joiner as below.
1. Support external audio track and multi-audio tracks.
2. Rip DVD movies to MP4, AVI, WMV, MOV, M4V, FLV and MP3.
3. Download 4K YouTube videos and play on portable device.
4. Convert video and audio files in high quality and fast speed.
How to join video files with Video Converter Ultimate
Once you download and install Video Converter Ultimate, you can follow the steps to join multiple video clips into a large file with the video joiner. Just check the detail process as follow.
Step 1. Launch the program to load the video clips. For the program supports most of the video formats, you can click the Add File menu to add all the files.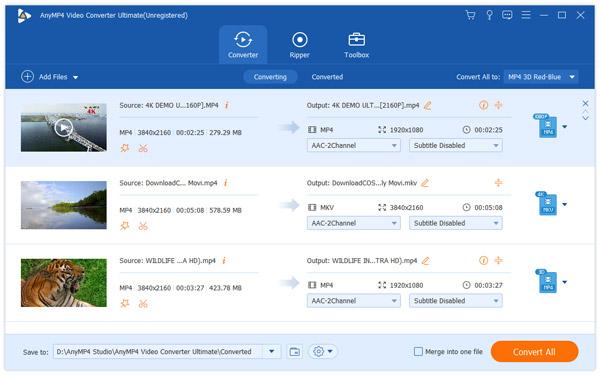 Step 2. And then arrange the order of the video. The interface of the program makes the whole thing easy to drag the video into the right order.
Step 3. Choose multiple video files for combining as a whole. Click the Merge into one file option in the bottom left to merge all the files together.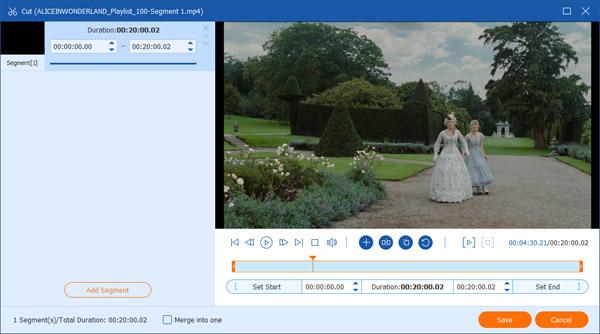 Step 4. Select the Device type from Profile Menu. The program provides hundreds of the most popular video formats for different devices you can choose from.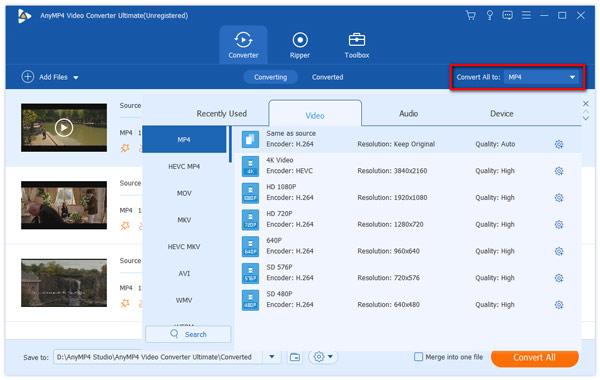 Step 5. Once you confirm the detail, such as the bitrate, codec and other parameters in Settings. You can click the Convert button to join videos as a whole.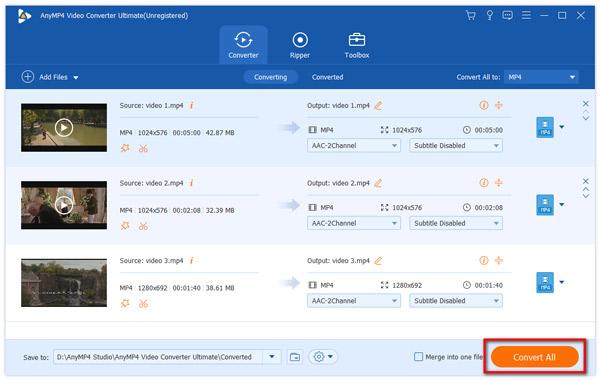 Top 10 Free Video Joiners to Merge Multiple Files
When you want to find some free video joiner to process some simple works. You can also check the listed the most popular freeware that can merge multiple files into one large video file for you.
1. AoA Video Joiner
AoA Video Joiner is a free program that lets you join multiple video clips of AVI, MPEG, MOV, WMV, FLV, MP4 and 3GP together into large movies. You can adjust the orders of the video clips and tweak output format settings. What is more, it only takes a few steps to join as many video files as you want with the video joiner, even if video files are in different formats.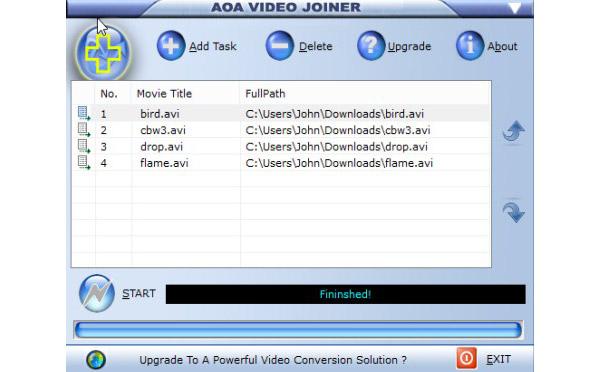 2. Kate's Video Joiner Free
Kate's Video Joiner Free is a versatile video-combining program. The Program supports AVI, WMV, MOV, DIVX, ASF, 3GP, MP4, MPEG1, MPEG2, VCD-PAL, VCD-NTSC, SVCD-PAL, SVCD-NTSC, DVD-PAL, DVD-NTSC and other formats. The program requires less storage than the other video joiners. When you use the freeware, you can easily join different video files to a large video file with ease.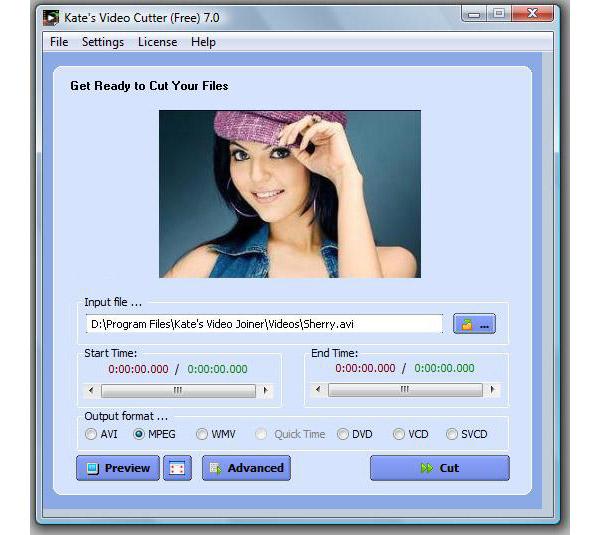 3. Machete Video Editor Lite
Machete Video Editor Lite is a free video editor, which you can also use as video joiner. The program is able to delete, copy, move, mix and save individual pieces. Also, you can use the software to remove audio tracks from video files. There is a major issue for the lite version, the free video joiner only supports AVI and WMV files. And it does not support the editing of audio files, and you can't use it to add or replace an audio stream as audio joiner.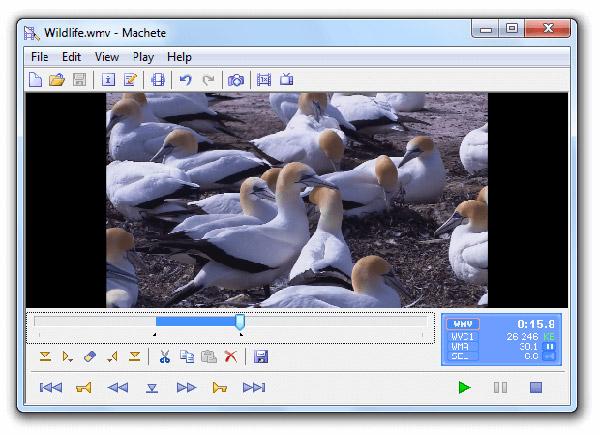 4. Format Factory
Format Factory is a multifunctional converter and video joiner. The program is ideally to join different video files according to your requirements. What is more, the free video joiner has a batch function that can speed up the process for you. When you need to work on video, you will be able to extract segments, crop images, perform embedding of subtitles and even preview the results directly from the software.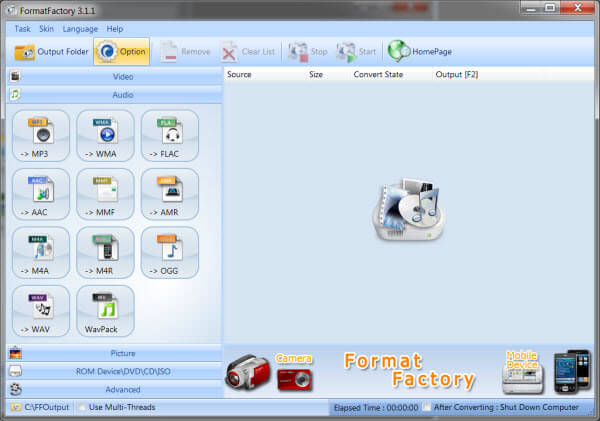 5. Freemake Video Converter
Freemake Video Converter is another video process software to join and convert different video formats. The video joiner is able to handle more than 500 video formats, such as MP4, MP3, AVI, WMV, MKV, iPhone, Android. And you can also use the video joiner to pull YouTube and other online web streaming, burn DVD files, make photo slideshow, and upload video files to iPhone and other features. The software works with Windows XP/ Vista/ 7.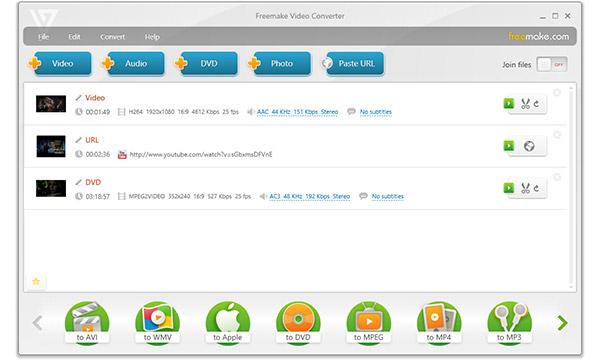 6. Media Cope
Media Cope provides some simple functions to process video files, such as play, convert, add and create slide show. And you can also use the video joiner to handle photo files as well. What is more, there are some Internet tools within the software. The software supports MP3, AAC, WMV, FLAV, RMVB, MP4, 3GP, WMV, MOV, AVI, DIVX, MPG, FLV, MKV, VOB, DAT and others. You can use the video joiner to Windows XP and above Windows operation systems, including Windows 10.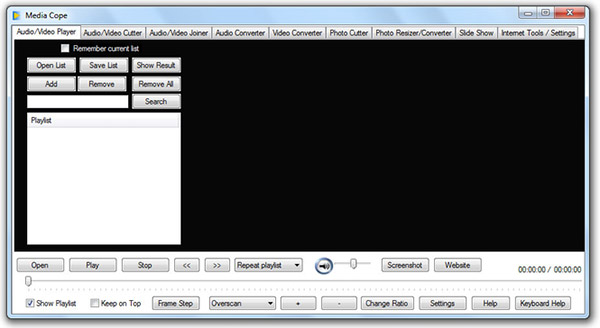 7. YAMB
YAMB or Yet Another MP4BOX is a GUI for Windows, which is able to create, split, join, multiplex, demultiplex MP4 files. The video joiner is able to combine audio files as well as the video files. Subtitles and chapters are also supported. The software supports AAC, MP3, MP4, Vorbis, MPEG, VOB, OGG, AVI and other formats. For the software is no longer maintained, you might not able to use the video joiner to Windows 10 now.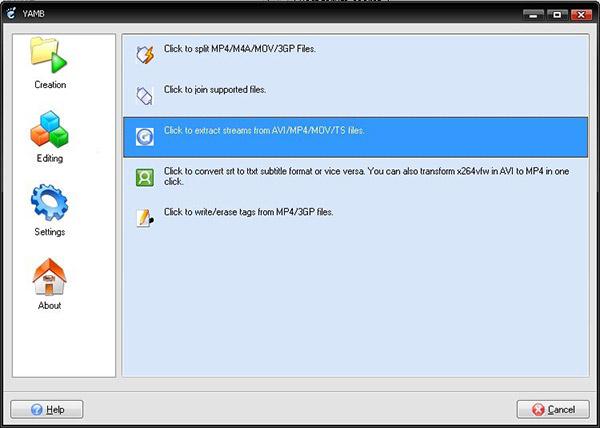 8. MediaJoin
MediaJoin is free video joining software that merges MPEG-1, MPEG2, WMV, MP3, AVI, OGG, WAV and WMA. You can include audio tag information for combined output audio files for Windows XP and Windows 7. The video joiner allows you to join all popular audio and video formats into a single merged audio or video file. What is more, the software can also be used to combine Text file and other notes. If you need to do some simple video files, it should be a choice for you.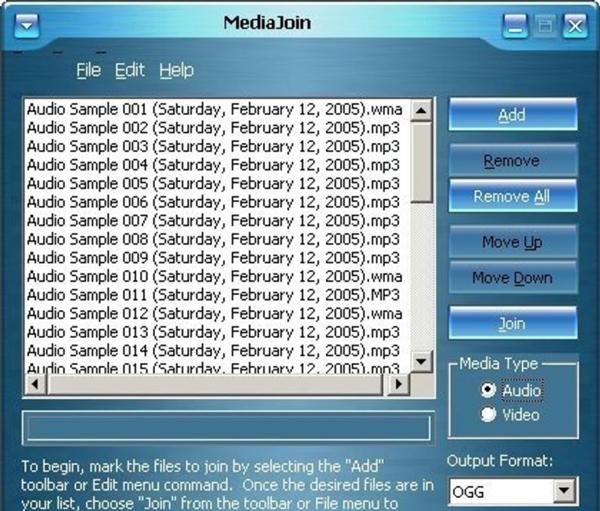 9. VirtualDub
VirtualDub should be another popular video joiner for professional users. It is compatible with Windows XP/ Vista/ 7 for both 32-bit and 64-bit. VirtualDub is mainly geared toward processing AVI files, although it can read MPEG-1 and also handle sets of BMP images. As a free video joiner or video editor, the software only provides some basic functions to process a limited video formats. It lacks the editing power of a general-purpose editor, such as Adobe Premium and other Software.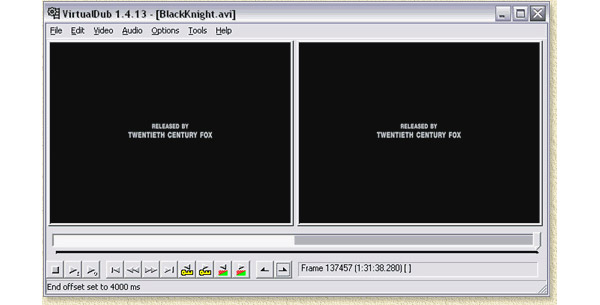 10. Free AVI/MPEG/WMV/MP4/FLV Video Joiner
Just as the name of the video joiner, Free AVI/MPEG/WMV/MP4/FLV Video Joiner is able to combine more than one video file of different formats into one specific file. The software supports AVI, MPEG, MP4, FLV, WMV, FLV and other video formats. The batch process also helps you merge different video formats with ease. The software works with Windows XP/Vista/7/8 easily and conveniently for users.