How to split FLAC up into individual tracks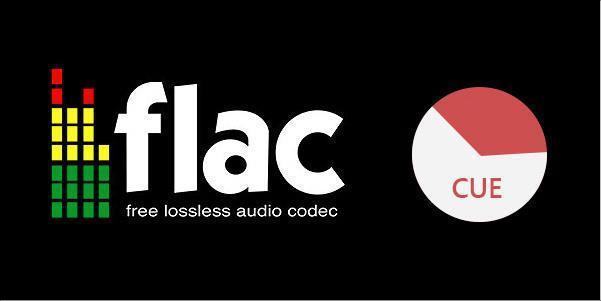 Tags: flac cue, cue flac, flac cue split, flac cue splitter, flac cue file, flac splitter, split flac
Are you getting in trouble with the FLAC CUE file like that some friends said? "I recently received a flac-formatted audio music file. It came along with a separate flac.cue file and a .cue file. I'm not certain what the .cue file is, but the flac.cue file lists all the tracking cues for the main flac file. With some converting tools I can convert the FLAC to any other format with no problem, but I need to split it up into individual tracks and can't seem to find a way to do this. If I burn only the .flac file, then I'll end up with a 60 minute CD with no tracking cues. Is there any way to incorporate the flac.cue file into the CD so that I can see the tracks listed when I insert the CD into a player?"
Of course, there is a great way to solve your problem I want to recommend you. The CUE file is the index file associated with FLAC file, if there is no CUE file, it can't select the song when playing FLAC file. Open the CUE file with Notepad program, you will find that it records the singers of entire album in FLAC files, album name, FLAC file name, track number, each track title, artist, start time and end time. Thus it is so important for you when you want to burn CD with the FLAC file. Now, I would recommend you the software which is powerful FLAC CUE Splitter software, you can use it to split one big album .flac file which contains multiple tracks up into individual tracks via .cue file and then save as each individual song/music.
First of all, you should download and install Medieval Cue Splitter, the excellent cue splitter. https://www.anymp4.com/download/video-converter.exe
If .cue files are already associated with a program on your PC, open the .cue file with Medieval Cue Splitter, when you're ready to split the large .flac file into individual tracks, click the "Split" button in the bottom right corner of the window.
Once completed, a small pop-up window will appear and click "OK" to complete the whole splitter. At last you will have each track on the album as an individual .flac file.
How to convert FLAC tracks to MP3/M4A/AAC/AIFF/WAV/WMA after split the FLAC file?
Preparation: Free download and install AnyMP4 FLAC Converter AnyMP4 Video Converter is also the best FLAC Converter software, which has powerful converting function to convert FLAC to any other popular lossy audio formats such as MP3/M4A/AAC/AIFF and lossless audio formats like WAV and WMA. And then you can play the FLAC files on any portable device and audio player such as iPad/iPod/iPhone/iTunes/PS3/Zune/Xbox 360, etc.
Convert any video/audio format like MP4, MOV, AVI, WMV, FLV, MKV to your needed one
Enjoy videos on popular multimedia players and multiple portable devices
Personalize video with multiple editing features: Customize 3D settings and Clip/Merge/Crop/Watermark video
Rotate and enhance video effect

Launch the program and add FLAC files to the program
After installing AnyMP4 FLAC Converter software, you can launch the program and open the main interface, then click "Add Video" button to add the FLAC tracks to the program, add click "Add Video" drop-down button to select "Add Folder" option to add the FLAC Folder to the program.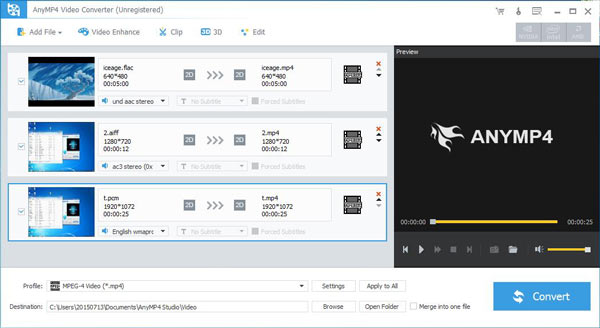 Select the output format
Click "Profile" drop-down arrow and choose "General Audio" to select one output format like MP3, M4A, MP2, WAV, and WMA and other.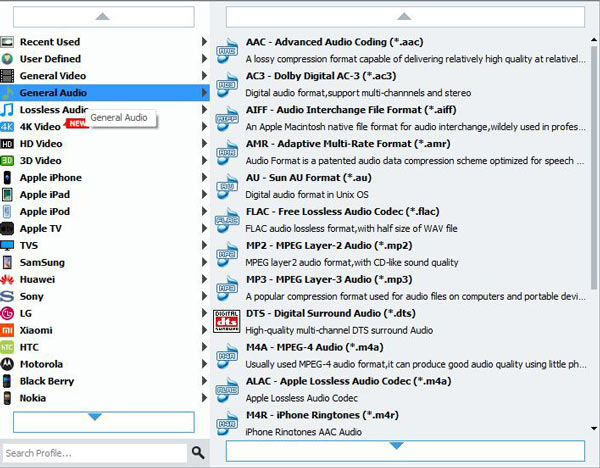 Start to convert FLAC tracks
This FLAC Converter software highly support batch conversion, click "Convert" button and all your FLAC files would be converted to your wanted audio format in a short time.