How to rip DVD to MP4 on Mac?
DVD is popular since it can store a lot of high-definition video files within one disc. Its great video quality and capacity makes it popular around the world. With a DVD player, anyone can enjoy DVD video with his family. Despite its abundant advantages, DVD video cannot be played without a DVD player, which means that it cannot be played on other portable devices.
The emergence of AnyMP4 DVD Ripper for Mac can help you solve this problem once and for all. Designed for fast speed, high video quality and universal application, AnyMP4 DVD Ripper for Mac can rip DVD video to any popular video and audio format such as MP4, WMV, AVI, 3GP, FLV and WebM. It also possesses amazing video customization function that can help you optimize video effect according to your needs.
Step 1: Install Video Converter for Mac
You can either install AnyMP4 DVD Ripper for Mac to the default installing path, or choose a path of your own. If you need information about this amazing software or other featured tools, please visit our website: www.anymp4.com.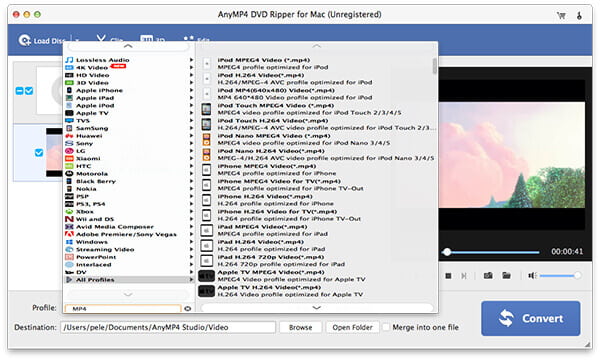 Step 2: Load the original video file
Put your original DVD disc in the DVD drive tray of your Mac PC, then click the "Load DVD" button on the toolbar of the software. Wait a few minutes as the software reads the disc. Soon the DVD video within the disc will be shown in the "File Name" list.
Step 3: Select MP4 profile
Click the "Profile" drop-down list and input "MP4" in the text area to order the software to find it for you. MP4 is the most widely used video format and is supported by many portable devices.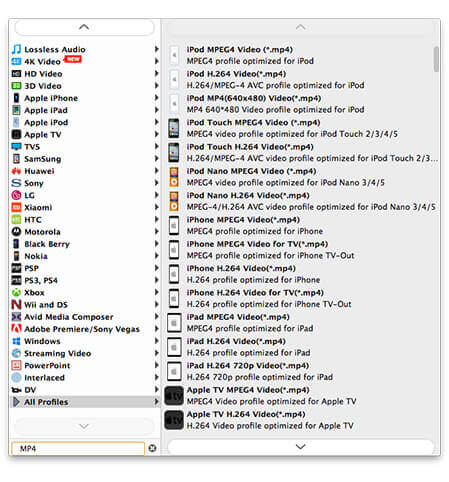 Step 4: Conduct video effect customization
AnyMP4 DVD Ripper for Mac is equipped with a collection of versatile editing tools and can help you conduct video effect customization. In order to get your preferred video effect, you can trim video length, crop video frame, merge video clips together, add watermark to the video and adjust Video Brightness, Saturation, Contrast, Hue and Saturation.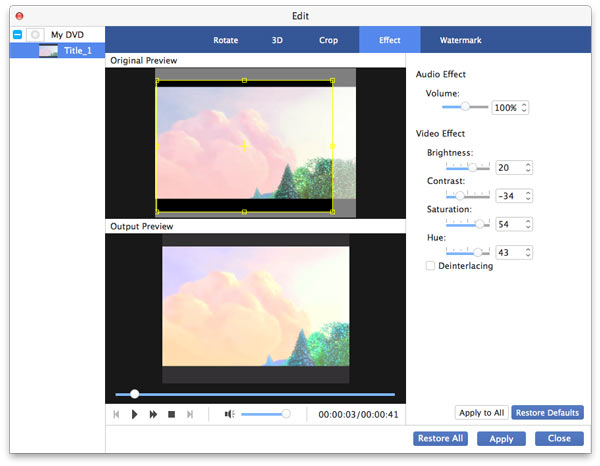 Trim video length
The "Trim" function can help you cut out a video clip from the whole movie. Select the video you need to trim, then click the "Trim" button. Here you can see a time bar and two slider blocks below it. They are used to define the start and end time of the video. If you want to conduct this in a more precise way, input the exact start and end time to trim the video.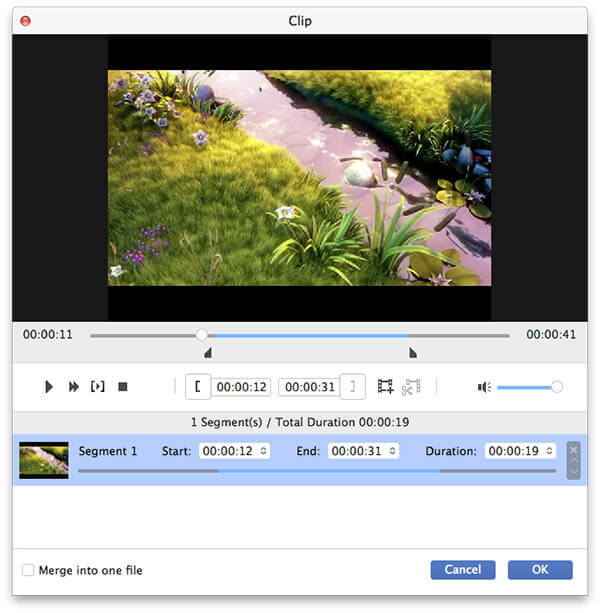 Crop video frame
Some video files have annoying black edges. You can easily remove them by using the "Crop" function. Here you can see two windows. There is a yellow frame in the left window that is used to define the part of the frame you need to keep. Drag the 4 edges and 8 control points of the yellow frame to define which part of the frame you need, or drag the whole frame to change its position. The result will be shown in the right frame.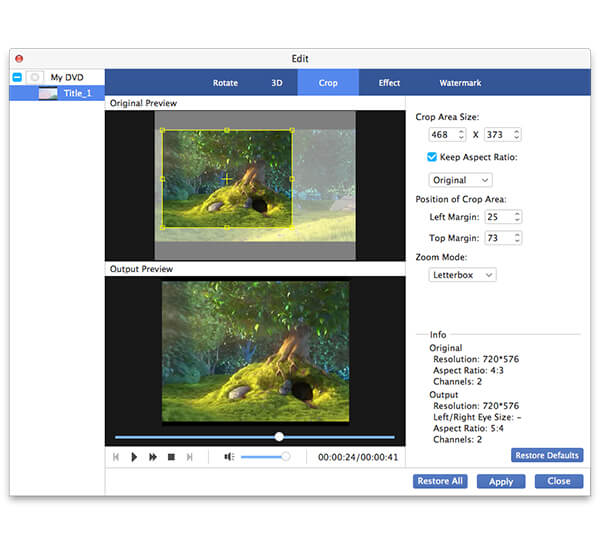 Add watermark to video
With the "Watermark" function you can mark the video with any of your preferred content. Click the "Watermark" button and select the "Enable watermark" check box, then input your preferred words or phrases to create a watermark. You can adjust its size, color, font size, position and transparency, and preview its effect in the right window. You can try adding picture watermark as well.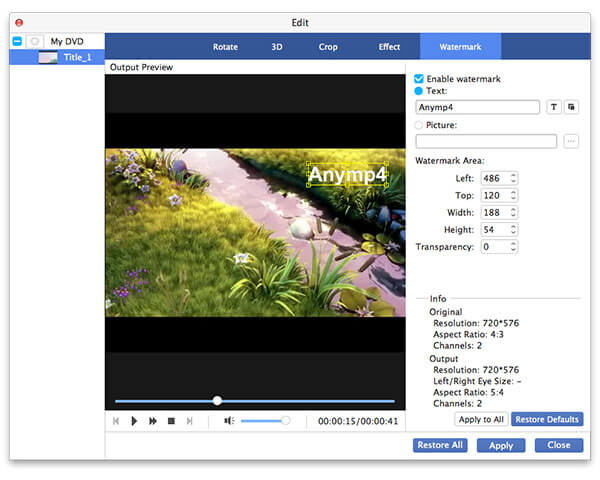 Output effect customization
Still not satisfied with the video effect? Click the "Settings" button to adjust output parameters! AnyMP4 DVD Ripper for Mac allows you to adjust Video Encoder, Resolution, Bitrate, Frame Rate, Aspect Ratio, and audio parameters such as Audio Encoder, Bitrate, Channels and Sample Rate to bring the video effect one step closer to perfection.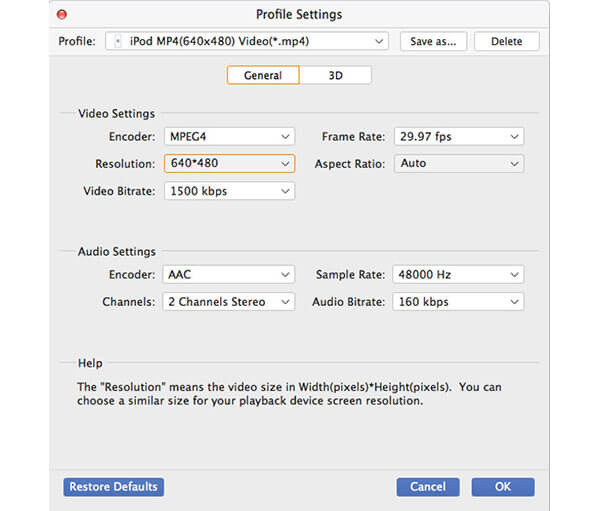 Step 5: Choose your preferred audio track and subtitle
You can use AnyMP4 DVD Ripper for Mac to choose your preferred audio track for the video, or add subtitle to the video, if they are optional.

Step 6: Convert video to MP4 compatible format
Click the "Convert" button, and the software will rip DVD video to MP4 format with incredible speed.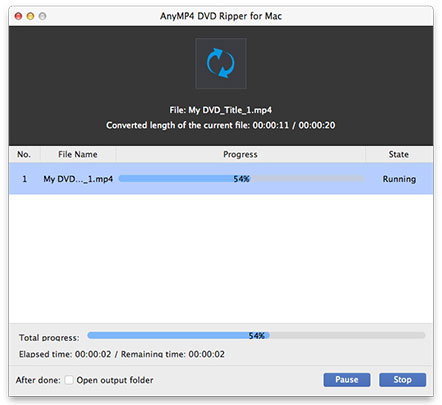 When the progress bar reaches 100%, you can enjoy high-quality video with all kinds of portable devices and video players.