How to convert Blu-ray disc to WMV and play it with Windows Media Player?
As one of the next generation optical disc formats after DVD - Blu-ray Disc, short for BD, is used to store high quality videos and high capacity data. Although Blu-ray disc owns the same size as DVDs and CDs, its capacity can be up to as large as 25GB or even 50GB, which is large enough to record a four-hour HD videos. Because of this character, all can Blu-ray disc can only be played in specific players such as Blu-ray player. Otherwise, nowadays Blu-ray disc has become one of the most popular devices all over the world because of its HD video quality, and many users desire to copy their Blu-ray disc to their computer and play them with ordinary players.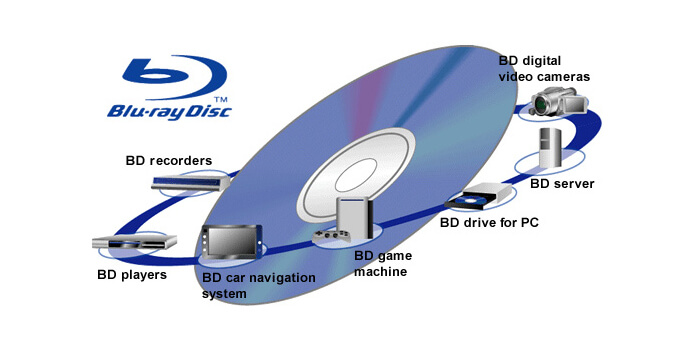 WMV - the wonderful video format
WMV, short for Windows Media Video, belongs to a streaming media format launched by Microsoft and upgrades and extends from ASF (Advanced Stream Format). In the same video quality, the size of WMV is relatively small, so it is suitable to play and transfer online. You can also download the WMV video while playing it. Generally, WMV files contain both video and audio parts, with the video part using Windows Media Video code and the audio part using Windows Media Audio code. Besides, WMV video can also be supported by many common players such as WMP, KMPlayer, REALPlayer, MPlayer and many digital devices such as Xbox and PS3. Thus, you are able to rip Blu-ray to WMV and play it with Windows Media Player very easily.
WMV HD
As a kind of WMV format, WMV HD (Windows Media High Definition Video) is a HD video compression format for several proprietary codecs developed by Microsoft. Usually, the HDTV file with .wmv as suffix is to use WMV-HD compression. Although it is based on WMV9 standard, a codec standard of HD format similar with H264 and MPEG2, its compression ratio is even higher than that of MPEG2 standard. As all Blu-ray movies are high definition movies, you'd better to convert your Blu-ray into WMV HD with exactly the same video quality. Or you are free to convert your Blu-ray into ordinary WMV format to watch it on your portable devices anytime and anywhere, if you have no higher video effect requirement. WMV HD is using Microsoft Windows Media Video 9 codecs. And these low-complexity codecs make it possible to watch high definition movies in 1280 ×720 (720p) or 1920×1080 (1080p) resolutions on many modern personal computers running Microsoft Windows XP or Windows Vista, although the hardware requirements are steep.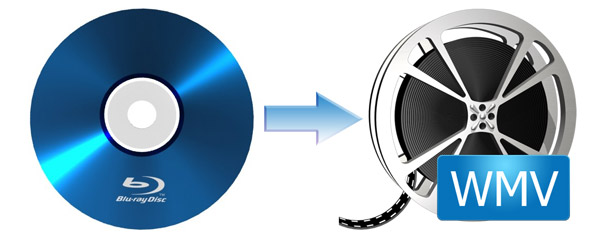 The devices support WMV format
PlayStation3, a home video game console developed by Sony, can support to play WMV video format of WMV HD compression. If you'd like to play video games on PlayStation3, you are able to play WMV HD videos. Quick Time, a built-in media player of powerful multimedia technology developed by Apple, can support all kinds of video formats, among which WMV video format is available. Furthermore, there are many other popular digital devices and game consoles supporting WMV video format, for instance, Zune, Sony Walkman, Blackberry, iRiver, Xbox, Dell Player, Nokia, Sansa, Windows phone and General Pocket PC. Next, let us show you something about AnyMP4 Blu-ray Ripper.
Why AnyMP4 Blu-ray to WMV Converter is your best choice?
AnyMP4 Blu-ray to WMV Converter is the versatile and powerful software which it enables you to convert Blu-ray to WMV with extremely fast speed and excellent output video quality. With this easy-to-access ripper, you can even convert your Blu-ray movies to 3D video by selecting from 3D effect. Then you can playback your video on your computer or other devices like BlackBerry. What's more excited is that it can support WMV9 encoder, which makes sure your output video in high and clear video effect. Otherwise, this Ripper possesses sorts of editing functions with which you can personalize your video at will. The most humanized function is that you can preview the edited video in the built-in player to see if it has reached your requirement. And you can also take your favorite images by using the snapshot function.

Load the Blu-ray to this ripper
First of all, you need to download and install this software to your computer. Then you need to put Blu-ray disc into the Blu-ray driver and load the Blu-ray by clicking the "Load Disc" button on the toolbar or selecting from the "File" drop-down list. After a while, the software will complete the loading process and the videos are ready to preview and edit.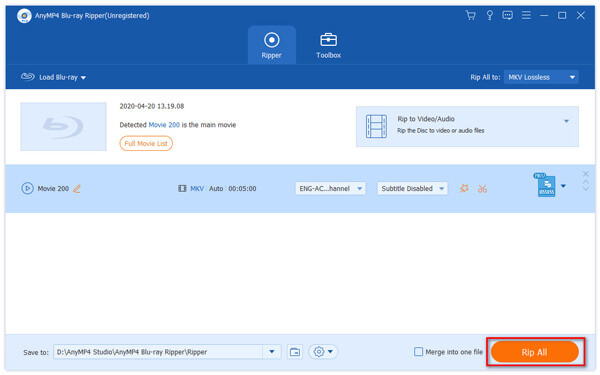 Select the target output WMV format
Within the "Profile" drop-down list, you can select the WMV format one by one; or you can just input WMV to the search box, and the software will find related WMV format automatically and quickly, and then you should select one compatible with your device. If you want to copy your output video to your PlayStation3, you should choose PS3 WMV HD Video (*. wmv); and if you want to play it on Windows Media player, you'd better choose HD WMV Video(*. wmv).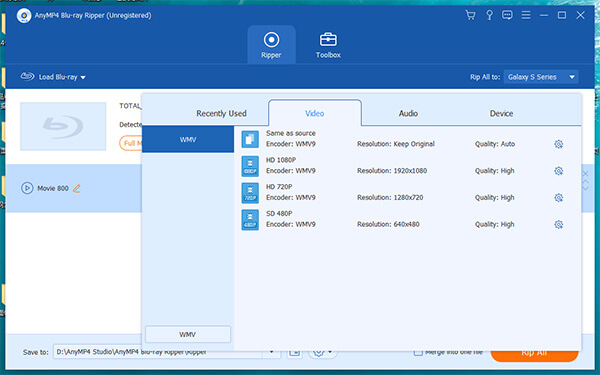 Edit the output WMV format
After choosing the output WMV format, you can just press "Settings" button next to "Profile" drop-down list and a window will prompt out. Thus, you can customize the profile parameters. For example, you can set up the video encoder to WMV9, WMV8 or WMV7 (depend on your own needs), and the audio Channel to 1 Channel Mono, 2 Channel Stereo or 5.1 Channels. At last, click the "OK" button to save your settings.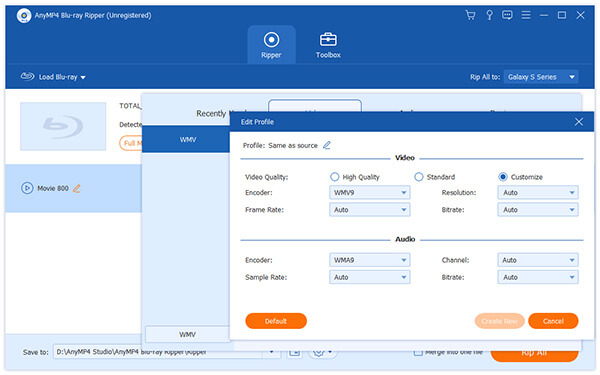 Customize the video effect
With the editing function, you can conduct video personalization. In the edit configuration window, you can crop the output video by select its crop size area and aspect ratio, edit left and top margin in the positing of crop area, as well as set the zoom mode of letterbox, medium, pan&scan or full. Besides, you can select 3D effect, add watermarks in form of text or picture, and adjust its Brightness, Hue, Contrast, Saturation and Volume.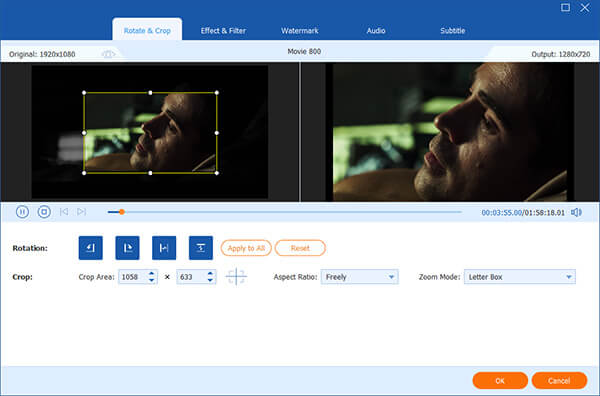 Begin conversion
After all the above settings, you can click the "Convert" button to begin the conversion. As the capacity of Blu-ray disc can as large as 25GB or even 50GB, it may take a little longer to complete this conversion. So you'd better to have set up the auto shutdown after conversion, and then you can go for a run, or chat with your friends or do some reading.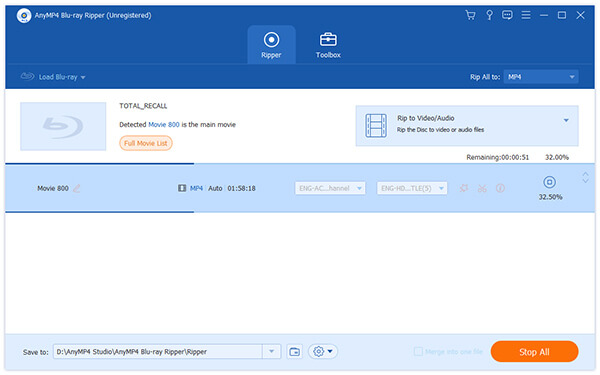 Blu-ray Ripper - $45.00
Rip Blu-ray to 2D/3D video for playback on portable device.

Windows 8/7/Vista/XP

Blu-ray Ripper for Mac