How can I convert Blu-ray disc and movie to Samsung Galaxy S4 for playback?
Compared with traditional DVD which needs to issue red laser (650nm) to read and write data, Blu-ray or Blu-ray Disc (short for BD) adapts blue laser of shorter wavelength (405nm) to read and write data. But generally speaking, the shorter of the laser's wavelength is, the more information will be recorded or loaded on certain unit area. Hence, Blu-ray has greatly improved the CD's storage capacity, which, for optical storage products, Blu-ray provides a chance of development by leaps and bounds. So far, Blu-ray is the most advanced optical disc format of large capacity, and a single layer can store videos of 25GB, even up to 50GB. Thus, the huge capacity of Blu-ray products brings possibility and convenience for HD movies, games and storage of other data with large capacity, which, to a large extent, will promote the development of HD entertainment. Due to its popularity, large storage capacity as well as HD video quality, many people prefer to watch Blu-ray movies on their smart phone such as Samsung Galaxy S4. But Blu-ray disc can only be played in certain player because of its copyright. So if you want to play Blu-ray movies on your PC or smart phone, you need to rip Blu-ray to the format supported by Galaxy S4 with the help of Ripper software.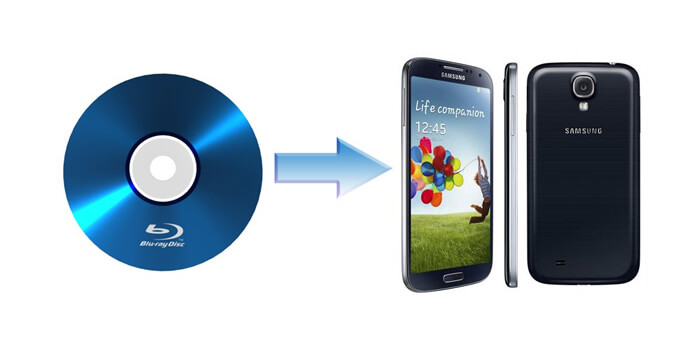 Samsung Galaxy S4 - one of the most popular smart phones
As soon as Samsung Galaxy S4 hits the market, this cell phone turns out to be a bestseller with its sales volume up to over six million, about two weeks after listing. By using the latest Android 4.2.2 with TouchWiz "Nature UX 2.0" graphical user interface, this mesmerizing smart phone owns a 5-inch 1080p Super AMOLED screen and a super-fast quad-core 1.9GHz Snapdragon 600 processor. GS4 possesses both a rear camera of SONY Exmor R 13 million pixels and a front-facing camera of 2.1 million pixels. It also adopts 411ppi pixel density and 1920*1080 main screen resolutions. Its storage capacity is as large as 2GB RAM and 16GB or 32GB or 64GB expansion memory with microSD card. As its handset thickness is as thin as 7.9 mm, it is easy to carry and operate. And its battery capacity is 2600mAh which enables users to enjoy a relative long standby time.
Otherwise, GS4 is designed with a series of special features. For instance, Dual Camera allows both rear and front cameras to work at the same time; Drama Shot makes it possible to produce dynamic pictures; Air View enables users to have a quick preview of emails, tasks, pictures and videos without opening the programs; and Smart Pause is another smart function, and during your video time, if your eyes leave the phone screen, the video will suspend automatically.
Owing to its large screen, HD screen resolution as well as its distinctive features, it is suitable and comfortable to watch HD Blu-ray movies on GS4. However, GS4 can only support audios in the form of MP3, WAV, AAC+, AC3 and FLAC or videos in the form of MPEG4, H.264, H.263, DivX, DivX3.11, VC-1, VP8, WMV7/8, Sorenson Spark and HEVC, but it cannot play any Blu-ray disc. Therefore, it is necessary to use a Blu-ray to Galaxy S4 for playing any Blu-ray on Galaxy S4, and then you can have an unparalleled high-definition movie time with your GS4.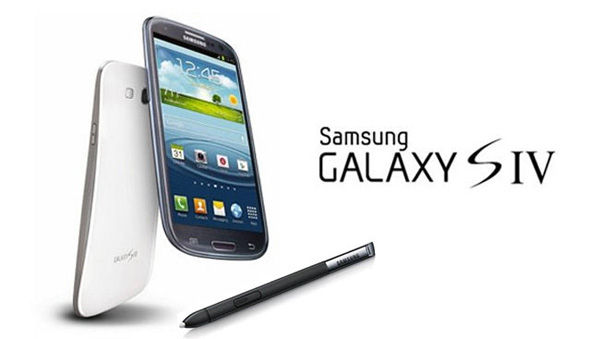 Why AnyMP4 Blu-ray Ripper is a perfect choice?
As a dynamic and versatile Blu-ray ripping tool, AnyMP4 Blu-ray Ripper can help you convert Blu-ray to Galaxy S4 supported video such as MPEG4, H.264, H.263, DivX, DivX3.11, VC-1, VP8, WMV7/8, Sorenson Spark and HEVC , and video formats such as 3GP(MP4), WMV, AVI(Divx), MKV and FLV. With its easy-to-access interface, you can load, edit or convert your Blu-ray with ultrafast speed and excellent video effect. Then you can play and enjoy your movies on GS4 with its wide screen. And this software can support several HD encoders, which ensures the clear output video effect. Besides, this ripper is so powerful and versatile that you can customize your videos with its multiple functions according to your demands. You can rename or remove the output video at will, and you can merge two or several videos into a big one. If you are not satisfied with the original audio track or subtitle, you are free to select from several options.

Load the Blu-ray to this software
At first, you should download AnyMP4 Blu-ray Ripper form our webpage and then install it on your computer. After installing, run the program, and you can click the "Load Disc" button to load the original Blu-ray disc or select from the "File" pull-down menu. Then the software will identify and analyze the Blu-ray disc, and in a few seconds, this loading process will be finished.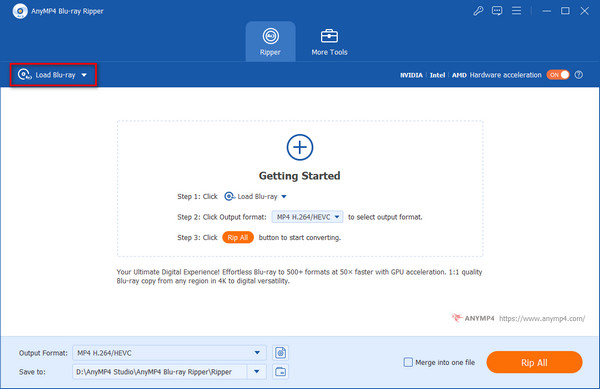 Choose the output video formats
Press the "Profile" pull-down menu, and you are free to find your target video format one by one; or you can just input the target video format in the quick search box below the lower left corner of "Profile" pull-down menu, and the software will find it automatically for you. If you want to play Blu-ray on your GS4, you can choose the format of Samsung Galaxy S4 (*.mp4) to meet your needs; or if you want to get a clearer and higher video effect, you can choose H.264/MPEG-4 AVC Video (*.mp4) from General Video, and you will have an opportunity to feast your eyes.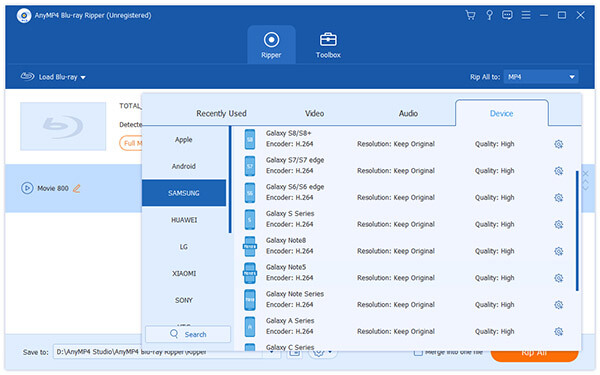 Edit the output video format
Click the "Settings" button in line with "Profile", and a window will prompt out. In this window, a series of parameters are ready for you to select. You can do some video settings by choosing its resolution of 720*576 with corresponding video bitrate of 900kbps, editing its frame rate to 29.97fps, as well as selecting its aspect ratio with 16:9.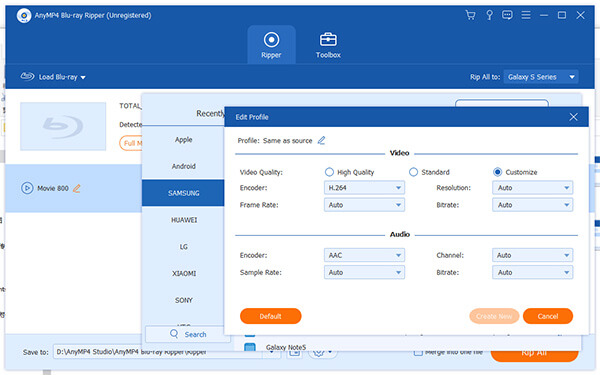 Design your output video in a humanized way
This step is an optional one, and you can personalize your output video with its multiple functions. you can clip the Blu-ray video into several segments by selecting its start time and end time or just moving cursor on the playback process bar. Otherwise, you can edit its 3D effect, crop its frame, add watermarks in text or picture and adjust its Brightness, Contrast, Saturation, Hue and Volume.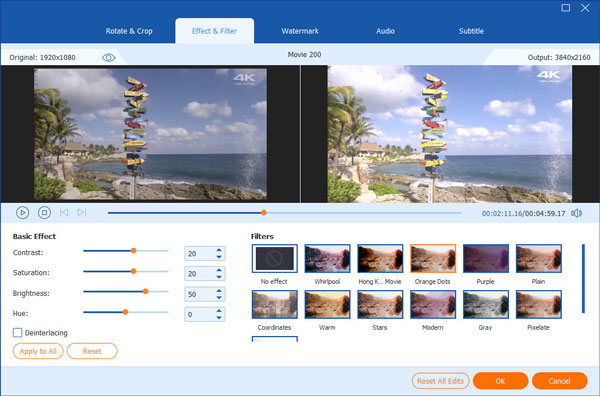 Complete the conversion
If you have satisfied with all the above settings, you can simply press "Converter" button to start the conversion. As the Blu-ray disc is usually in large size such as 25GB or even 50GB, and if you want to convert a whole Blu-ray disc, it will take a bit of long time to complete the conversion even by using an accelerator like CUDA. Thus we suggest that you may set the auto shutdown function, and go to practice yoga or any other stuff to relax yourself.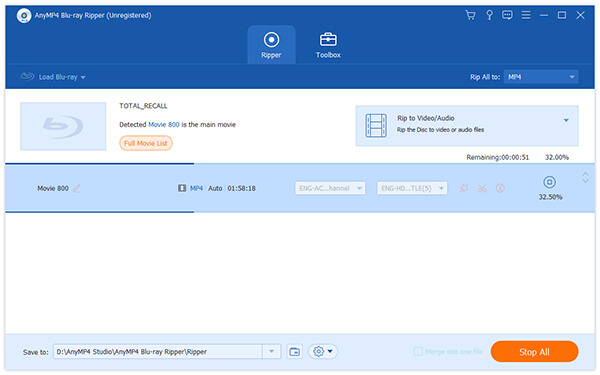 Transfer your output video to Galaxy S4
After completing this conversion, your output video is ready to play on your computer. Then you need to connect your Galaxy S4 to your PC, and transfer the video to your memory card; or you just take out the memory card and connect it through card reader. Thus, you can enjoy your video on Galaxy S4.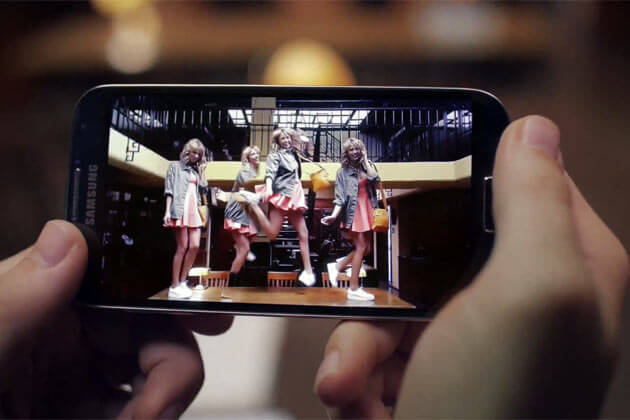 Blu-ray Ripper - $45.00
Rip Blu-ray to 2D/3D video for playback on portable device.

Windows 8/7/Vista/XP

Blu-ray Ripper for Mac