What is Blu-Ray Definition

Many customers have heard of Blu-ray or even have watched Blu-ray movies. However, many audiences still did not know the exactly meanings of Blu-ray. It is necessary to understand what are Blu-ray and the benefits of it. When we talk about Blu ray or BD, it usually refers to digital optical disc data storage. And the discs are showed a layer of Blu-rays, so we call it BD discs. Blu-ray disc is a kind of supersede DVD format that stores high definition and ultra high definition videos. If you want to learn the details about Blu-rays, you can spend a few seconds and read the content below.
1. What is Blu-ray
We all know that a Blu-ray movie is more impressive than an ordinary movie, no matter the pictures or the audio experiences. The secret is hidden in the blue violet laser. After Sony released BD discs in 2000, the technology becomes the new standard in both customer market and computer data market. The Blu-ray disc covers a layer of blue violet laser which is used to read and write. Such laser has shorter wavelength, so it could store more data than ordinary DVD that uses red laser.
On the other hand, high definition movies provide much clearer images and high quality audios, so a high definition movie takes up five times more storage than ordinary movies. It is apparent that the ordinary DVD cannot handle HD movies. And Blu-ray discs become the perfect medium of high quality movies and video games. Besides larger storage, Blu-ray discs bring more features.
1. Burn HDTV without quality loss.
2. Record one movie while watching another on the Blu-ray disc.
3. Skip to any spot of the disc instantly.
4. Edit the videos recorded on the Blu-ray disc.
5. Build playlists.
6. Search for empty space of the disc automatically and avoid recording over.
7. Allow users to download subtitles through internet.
2. Blu-rays vs. DVDs
It is well known that Blu-rays are superior to DVDs; however, you may still confuse the differences between Blu-rays and DVDs. We will compare Blu-rays and DVDs and tell you the benefits of Blu-rays.

Storage
As I said above, a single layer DVD could store 4.7GB of data. That is approximately two hours length ordinary movie. And a double layer DVD could store twice the amount of data. But, a single layer Blu-ray disc is able to store about 25 GB data, which is 13 hours of standard movies or two hours of HD movie. A double layer BD disc could hold twice amount of data at 50 GB. Generally speaking, a double DVD could store one Lord of the Rings; while a double Blu-ray disc has the ability to save the entire series of Lord of the Rings.
Pictures
The video experience depends on the picture resolution, like 480p, 720p or 1080p. The higher the resolution, the more details the pictures display. The standard resolution of normal DVDs is 480p and enhanced resolution is 520p. Blu-rays are used to store the images resolution at 1080p, for the have larger storage. So the video files are the partner of HDTVs. Such high definition resolution cannot be enjoyed on HD cable or satellite channels.
3. What is Ultra HD Blu ray
Ultra HD Blu-ray is a new digital optical disc data storage format that supersedes Blu-ray. An ultra HD Blu-ray could store 4K UHD video with resolution is 3840 x 2160 and play it at 60 frames per second. Although we can use words to descript the differences between an ultra HD video file and a conventional Blu-ray, you will understand the real differences when you experience the images and audios. That is because a movie is encoded on an ultra HD Blu-ray disc under the High Efficiency Video Coding standard and used 10-bit color depth and the Rec. 2020 color space.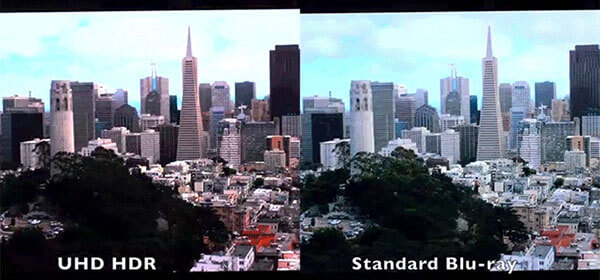 Ultra HD Blu-ray is a kind of new data storage format that appears on market on March, 2016. Sony and other three studios released the first Ultra HD 4K Blu-ray Discs on March 1st, 2016.
Besides the features that standard Blu-ray has, ultra HD Blu ray allows users to copy content to an external hard drive or portable devices, like smartphones. Moreover, the new Blu ray storage format does not have region code.
4. Blu ray player Software
If you do not want to purchase Blu ray player hardware and your CD-ROM supports blu rays, you can enjoy your BD discs on your computer. There is some professional Blu-ray player software on the market. And we suggest AnyMP4 Blu-ray Player here. There are several reasons make Blu-ray Player the best choice to enjoy Blu-ray movies on PCs.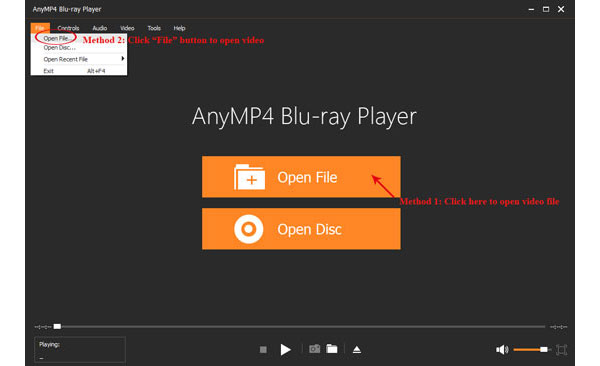 1. AnyMP4 Blu-ray Player is compatible with both Windows and Mac OS, including Windows 10 and the latest version of Mac OS.
2. And this Blu-ray player has the ability to read 4k high definition videos from Blu-ray disc, Blu-ray folders and ISO files.
3. As a media player, Blu-ray Player will provide the excellent video quality, no matter the video formats, like MTS, M2TS, TS, MXF, TRP, MKV, FLV, RMVB, MPEG, MP4, MOV, AVI, WMV and more.
4. It is able to play 4K UHD movies and 1080p HD videos smoothly.
5. Besides images, you can get the excellent sound experience with AnyMP4 Blu-ray Player.
Although this player has so many powerful features, it is easy to control.
Conclusion
In this article, we introduced several concepts, like Blu-ray, BD, 4k Blu-ray and ultra HD Blu ray. If you spend a few minutes and read it, you will understand that what blu ray is. To highlight the benefits of the video format, we compare Blu rays and DVDs as well. If you have watched the video or 4k movies, you would be impressed with the pictures quality and audio quality that Blu ray movies displayed.
Finally, we recommend a Blu ray player, AnyMP4 Blu-ray Player, for the people prefer to enjoy Blu rays or 4k Blu rays on PCs. Nothing is better than watching a high definition movie with families or friends via an easy-to-use media player with extensive features. AnyMP4 Blu-ray Player could meet all your demands related to play Blu rays.