AC3 to MP3 - How to convert AC3 to MP3 with best AC3 to MP3 Converter?
How to convert AC3 to MP3 for playback on iPod, iPod touch and iPod nano? Many Apple zealots get into trouble in listening to the music, as AC3 audio file can't be supported by your much-love Apple device. To easily import AC3 to your iTunes and iPod, iPod touch, and iPod nano, you should have a professional Audio Converter for help. AnyMP4 AC3 to MP3 Converter is the best but easy to use AC3 to MP3 Converting software, which has the capability to convert AC3 to MP3 with super high converting quality and fast converting speed. How to convert AC3 to MP3 with the best AC3 to MP3 Converter? This article would show you the detailed steps of converting AC3 to MP3.


Download and launch the program
Here you can free download AnyMP3 AC3 to MP3 Converter software and install it on your computer, and then you can launch the program to open the main interface.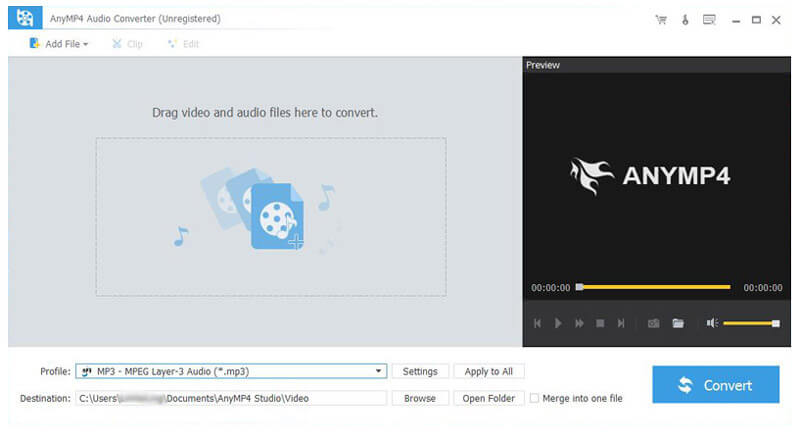 Add AC3 audio and choose output format
Click "Add Video" button to add AC3 audio file to the program, and then click "Profile" drop-down button to select "General Audio > MP3 MPEG Layer-3 Audio (*.mp3)" as output format.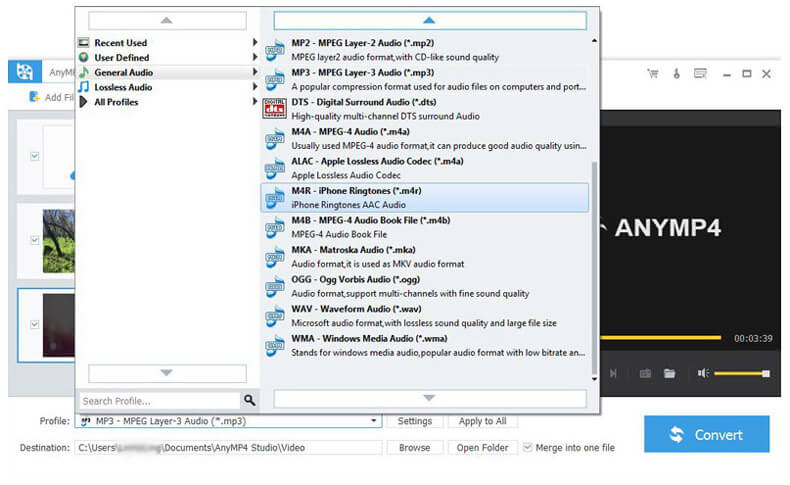 Define output settings
Click "Settings" button and you can open the "Profile Settings" Window, here you can adjust the audio settings such as Encoder, Sample Rate, Channels, and Audio Bitrate to get the perfect audio quality.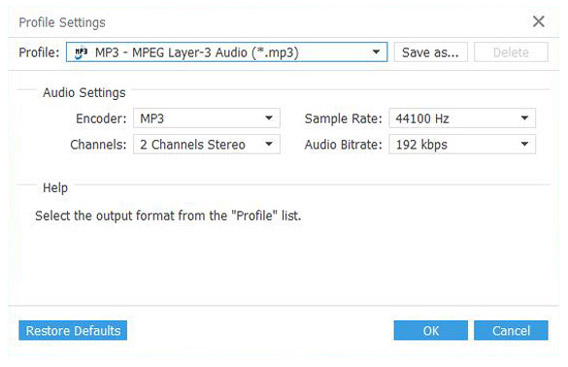 Convert AC3 to MP3
Click "Convert" button to start to convert AC3 to MP3 and then you can play AC3 audio on your iPod touch, and iPod nano.

Audio Converter - $19.00
Convert any audio to FLAC, MP3, AAC, WAV, etc. for audiophiles

Windows 8/7/Vista/XP

Audio Converter for Mac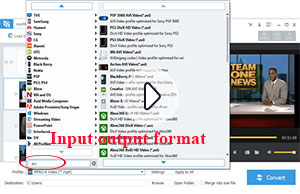 What is AC3?
AC3 is an audio file specifically developed by Dolby Digital to provide surround sound audio. The format is used for audio on many DVD and Blu-Ray media. In order for the file to be correctly decoded and output, a DVD player with a Dolby Digital compatible home cinema system is required. AC3 allows for separate audio to be defined for each of the 6 speakers in the standard cinema and home cinema setup. The six channels consist of right front, center, left front, rear right, rear left and a sub woofer.
What is MP3?
MP3 is a digital music format which allows CD tracks to be reduced to around a tenth of their normal size without a significant loss of quality. MP3 gets rid of a lot of the information recorded in a song that our ears are not able to hear and then uses complex algorithms to reduce the file size. The MP3 format is a lossy format. It means that it removes the information that your ear doesn't notice thereby making the file smaller. The reason lossy formats are used over raw is that raw audio files are too large to travel over the internet at any great speed. By using lossy formats it enables even dial up users to download mp3 files at a reasonable speed.