How to convert video to iPod on Mac?
Designed with excellent mobility and huge capacity, iPod is one of the most popular mobile music players around the world. It also possesses fantastic video playing function and can play high-quality video files. But it has a limited number of supported video formats.
Convert all kinds of video to iPod compatible video format with iPod Converter for Mac
Check out the brand new AnyMP4 Video Converter for Mac! Designed for speed, quality and universal application, AnyMP4 Video Converter for Mac can convert any video to all kinds of video formats and even portable device compatible formats. It can also convert video to iPod compatible MP4, MOV and M4V format.
Step 1: Install Video Converter for Mac
You must install AnyMP4 Video Converter for Mac on your Mac PC. Select your preferred installing path or just use the default path.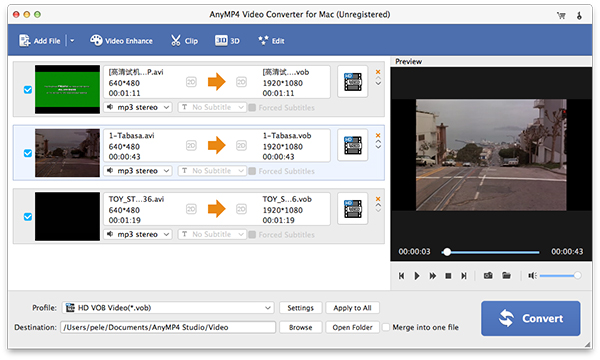 Step 2: Load the original video file
Then load the video file you need to convert to the software by clicking the "Add Video" button. You can also add multiple video files by clicking the "Add Folder" button. You are allowed to remove files from the "File Name" list by selecting them and pressing the "Delete" button on your keyboard.
Step 3: Select iPod profile
Choose the target video format from the "Profile" list. You can select iPod profile or choose which format you need.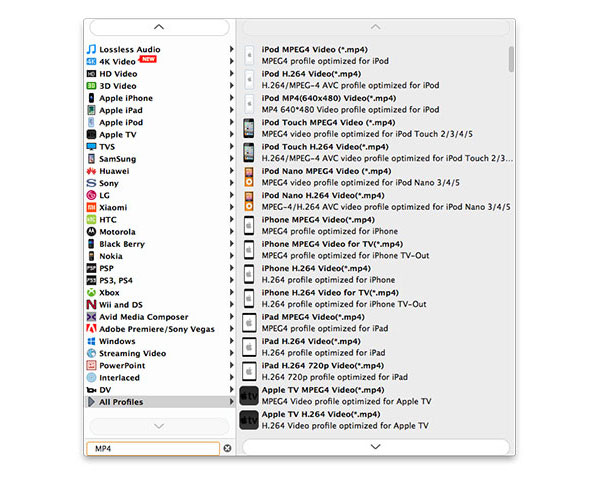 Step 4: Conduct video effect customization
Designed with a collection of versatile editing tools, AnyMP4 Video Converter for Mac can help you customize video effect in the easiest ways. It can help you trim video length, crop video frame, join video clips together, add watermark to personalize the video, and adjust Video Brightness, Hue, Contrast, Saturation and Volume for better video effect.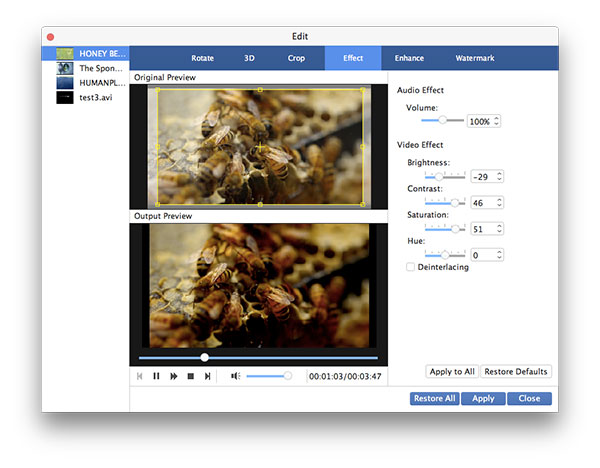 Trim video length
If you only need a certain part of the video, you can use the "Trim" function to cut it out. Select the video file and click the "Trim" button, then drag the two slider blocks below the time bar to define your needed part of the video. You can also input the exact start and end time to define the part in a more precise way.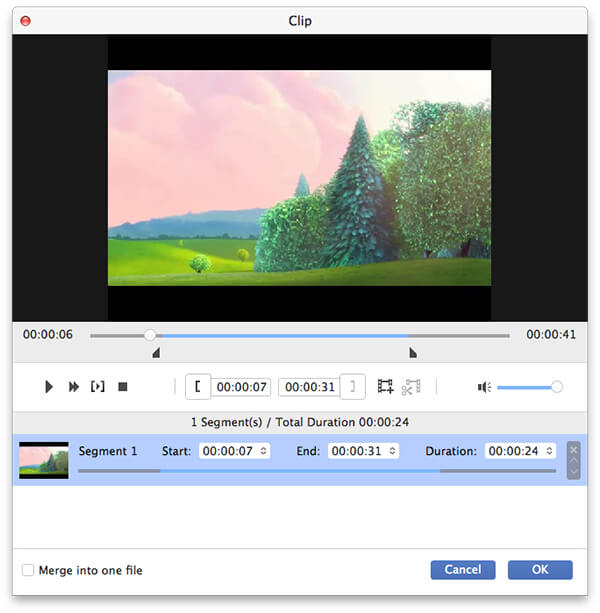 Crop video frame
If you need to remove the black edges of the video, try the "Crop" function. Here you can see a yellow frame in the left window, and the cropping result in the right window. Drag the 4 edges and 8 control points of the yellow frame to define your needed frame, and drag the whole frame to change its position.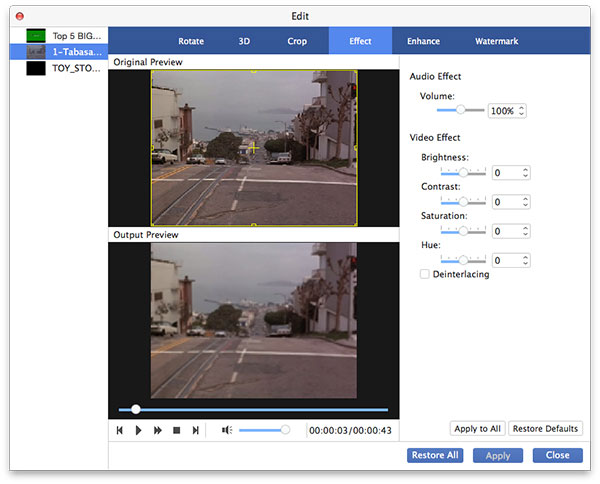 Add watermark to video
You can also add watermark to the video to personalize it with the word you prefer. Click the "Watermark" button and select the "Enable watermark" check box, then you can make your unique personalized watermark. Input your preferred words in the text area then customize its color, size, font, font size, position and transparency. You are also enabled to add picture watermark to the video.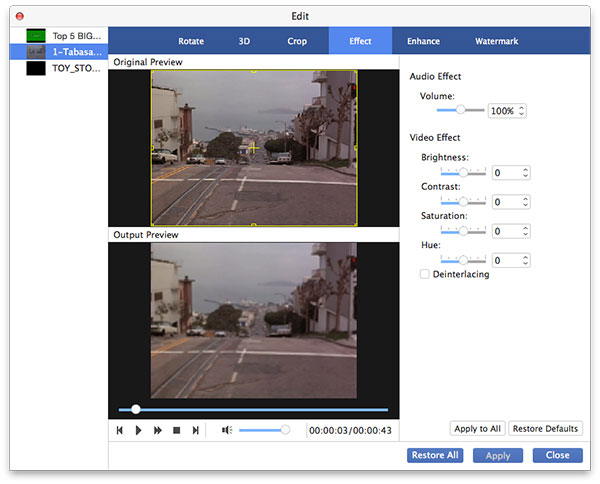 Output effect customization
In order to get better video effect, you can also adjust output parameters such as Video Encoder, Resolution, Bitrate, Frame Rate and Aspect Ratio. Audio parameters such as Audio Bitrate, Channels, Encoder and Sample Rate can also be adjusted.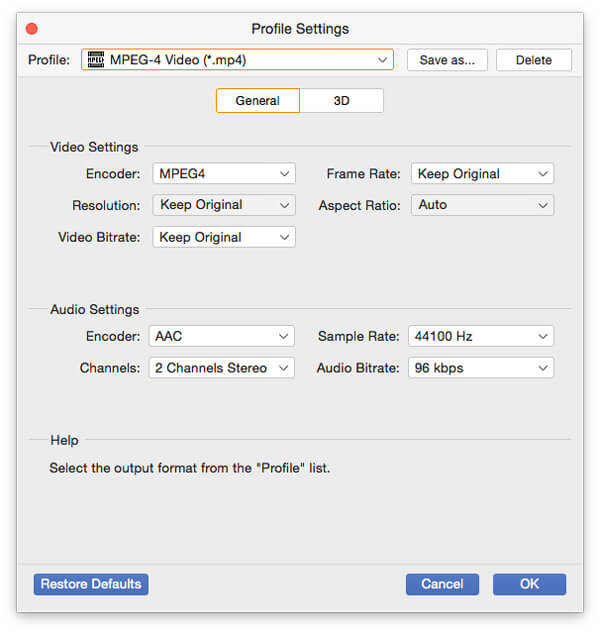 Step 5: Choose your preferred audio track and subtitle
Choose your preferred audio track since many video files contain more than one audio track. You can also add downloaded subtitle to the video for more fun.

Step 6: Convert video to iPod compatible format
Here comes the last step. Click the "Convert" button to convert your original video to iPod compatible video format.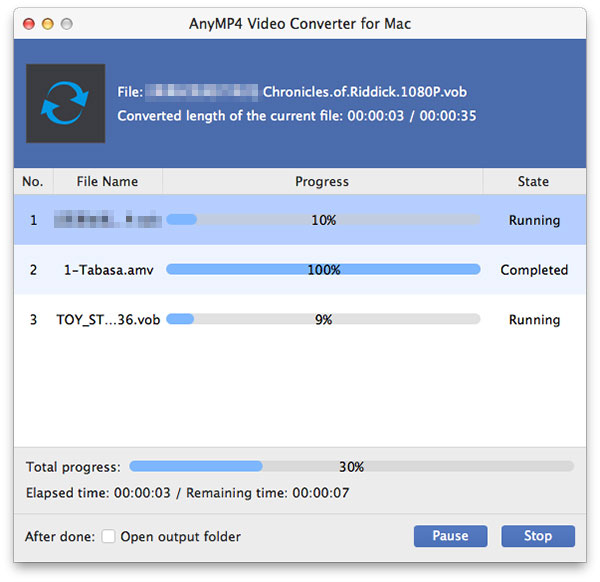 The conversion task will be finished soon. When the progress bar reaches 100%, you can enjoy the converted video with you iPod now.