Best WinX DVD Player and 4 Alternatives to Play DVD Movies Efficiently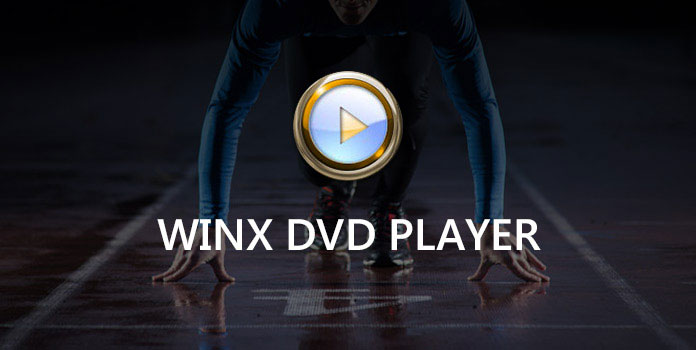 Get one excellent DVD player will improve your DVD movies watching experience into the higher level. At present, WinX DVD Player software is the one of the leading software, among free DVD players and purchased market. It is true that WinX DVD Player offers free to use filters, which can cover most necessities of DVD watching and editing. However, not everyone is so satisfied with it, and wanna to seek the best WinX DVD Player alternative. Thus, thus article mainly talk about best DVD player recommendations, and compare with WinX DVD Player software.
Part 1: Best WinX DVD Player to use
WinX DVD Player is the all region free DVD player and DVD recorder, with which you can play and copy DVD movies easily. WinX DVD Player has high compatibility with all kinds of DVDs, VCDs and SVCDs, like protected DVDs, commercial DVDs, homemade DVDs and all region 1-6 DVD-5 and DVD-9. The Windows DVD player supports users play video and audio files as well, with most popular media formats covered. There are also basic video editing filters, to you to adjust video playing and watching experience.
The DVD Player for Windows supports all regions DVDs and decrypt new copy protection, to watch DVD movies with the region free DVD player. You can get wide selections of playing functions, including VCD, SVCD, DVD, Internet videos and music entertainment, with large media format support. And it provides high quality video and audio playback, make sure no data loss or quality degradation.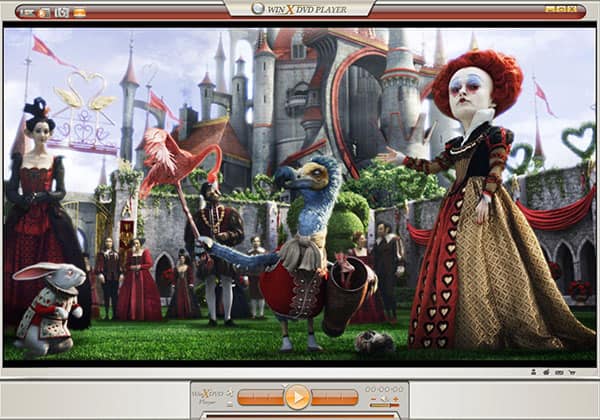 In a word, WinX DVD Player is the region free Windows DVD player, for users to play DVDs and Internet videos at home smoothly. But if you have extra requirements towards DVD playing or just something else, you can choose the following WinX DVD player alternative software.
Part 2: Top 4 WinX DVD Player Alternatives
The followings are alternative DVD players of WinX DVD Player software, which can read and play DVD discs and other video files on computer, equipped with different filters to run with.
1. Leawo Blu-ray Player
Leawo Blu-ray Player is the all-in-one WinX DVD Player alternative software. Users can play not only DVD discs and other normal video files, but also Blu-ray DVD discs as well. Moreover, it offers extraordinary media playback performance, with various audio and video filters support.
Play ISO image file, HD video including 4K resolution, DVD and Blu-ray DVD for free.
Virtual remote control of disc menu.
Get oriented media playing control about media playback.
Output audio files in professional filters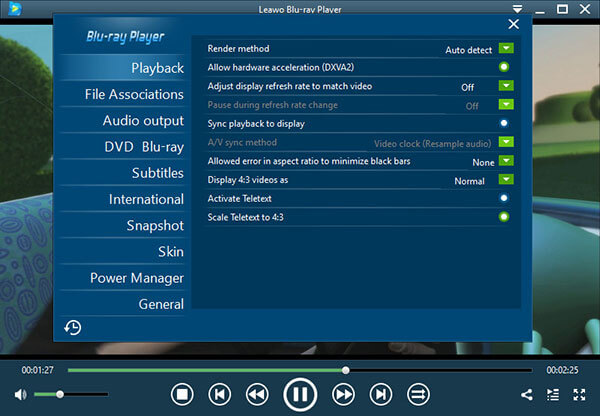 2. KMPlayer
KMPlayer supports media formats widely, and there are dozens of video editing filters for you to manage with, to deinteriace, cropping, rotate and mirror. There is the free KMPlayer version, which runs on Windows 7 32bit only. In addition, iOS users can install the HD video player from KMPlayer, while WinX DVD Player offers free versions for all Windows versions.
Cover almost all media formats and support to play without conversion.
Enjoy smooth DVD watching experience with light weight tool.
Offer 3D tech and 4K vide support.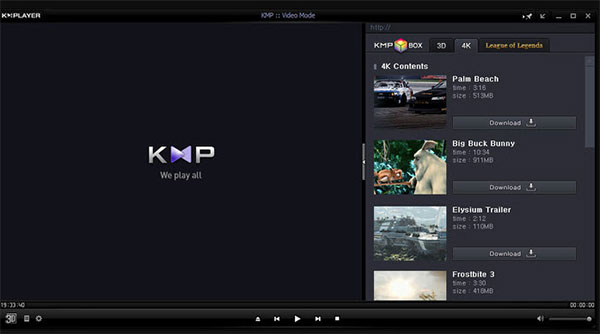 3. GOM Player
GOM Player offers strong subtitle functionality, to manage subtitles settings in customize way. And there are also advanced features for you to apply, like A-B repeat, screen capture, playback speed control and etc. The GOM Player is highly compatible with GOM Remote, with which you can control, with basic functions contained. In some degree, GOM Player works better than WinX DVD Player software does.
Manage all media file formats with internal codecs.
Customize video with numerous filters offered.
Get smooth DVD watching experience for free.
4. RealPlayer
RealPlayer is the large platform for people to play videos and DVD discs with. You are able to download videos from the web and watch on PC, and burn CDs or update for DVD playing and burning. It is the versatile WinX DVD Player Windows alternative media player, combines DVD discs, streaming videos, audio files and videos in storage. You can just link any of two together, and then start to enjoy on your computer.
Manage online videos to bookmark, download and stream.
Share videos to Facebook, Google + and etc.
Play and edit DVD videos in free way.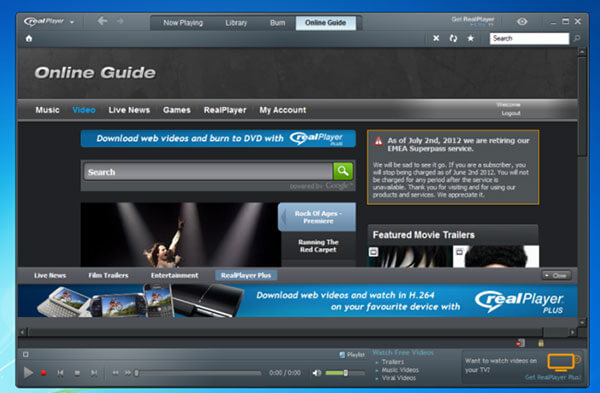 The above five alternative WinX DVD Player software are all worthwhile to act as Windows DVD player, instead of downloading WinX DVD Player, if there are something better you can get, from the other DVD player on Windows.
The Table of WinX DVD Player and Its Top 4 Windows DVD Player Alternatives
| DVD Player for Windows | Score | Pros | Cons |
| --- | --- | --- | --- |
| WinX DVD Player | 4 | Support all regions 1-6 DVDs, video and audio files, by the new copy protection remove technology. | No 4K video support |
| Leawo | 4 | With power manager offered, and easy to use filters | No 4K video support |
| KMPlayer | 3 | Light weight and be friendly with CPU slow computers | No screen capturer |
| GOM Player | 3.5 | Wide support of DVD format and media files | Lack of media edit filters |
| RealPlayer | 4 | Share videos to large social platform | No ISO and Blu-ray support |
Through the above table of DVD players on Windows, you can get direct comparisons, of what those Windows DVD players offers, and their weaknesses are.
More: The Versatile Player – Build Your Personal Home Theater
AnyMP4 Blu-ray Player is the software, which can play Blu-ray, ISO image files, 4K and 1080p HD videos. It has covered more media types to play, with the newest Blu-ray technology support. The general acceptation ranges Blu-ray Disc, folder, ISO image file, 4K video and 1080p HD video.
To be more specific, it includes video and audio files as well, with no limitation of enjoying high definition of movies smoothly.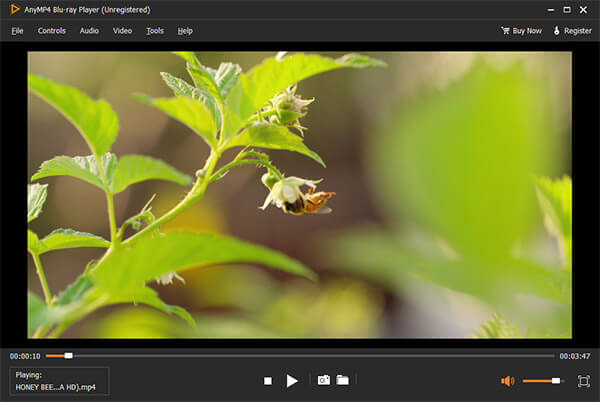 AnyMP4 Blu-ray can read MP4 file with superior video quality, as well as other video formats, to have highly compatible with the Blu-ray DVD player. If you cannot find the perfect Blu-ray player, AnyMP4 Blu-ray player is your first choice.
Bottom Line
You can read and compare above alternative software about WinX DVD Player, which has done better job than free WinX DVD Player software already. According to your real necessaries, and choose the best DVD player with. If you still have anything hard to figure out, feel free to contact us.