Download PutLocker to MP4 with 5 Professional Downloaders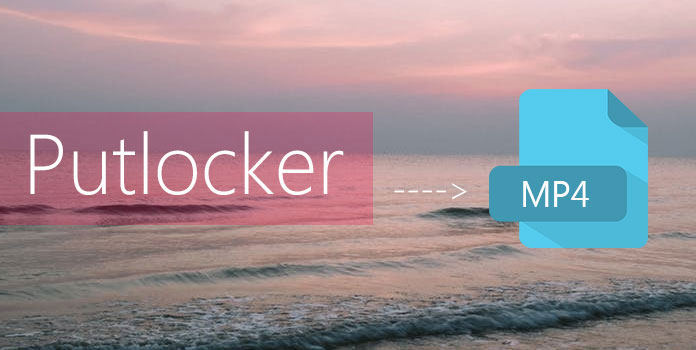 PutLocker is known as an excellent free video hosting stream site. It makes you watch movies, dramas and shows much easier and more freely. But if you want to download movies from PutLocker and convert those to MP4 format to watch on your devices, it is not a simple task. You need to rely on some professional video downloaders or other kinds of tools to make it. In this article, you will find 5 ways to download PutLocker to MP4 such as online downloader, video converter, screen recorder, etc. Please move on to learn more details.
1. AnyMP4 Video Converter Ultimate
When you see the name, you may be curious about why I recommend AnyMP4 Video Converter as a video downloader. Certainly, it is the most comprehensive converter helping you to convert any videos to the format you want. It offers more than 200 kinds of formats for you to select. It is a good video converter, and also a good video downloader. It allows you to download video from mainstream websites like YouTube, Vimeo, Facebook, Dailymotion, Vevo, Yahoo and other video-sharing sites in high quality. Besides, you are allowed to edit your downloaded videos and convert to your desired format. In the end, it is a good choice for you to download and convert PutLocker to MP4.
How to Download PutLocker to MP4 with AnyMP4 Video Converter
Step 1: Download and install AnyMP4 Video Converter on your computer
Follow the installation instruction to download it and then launch it to start downloading.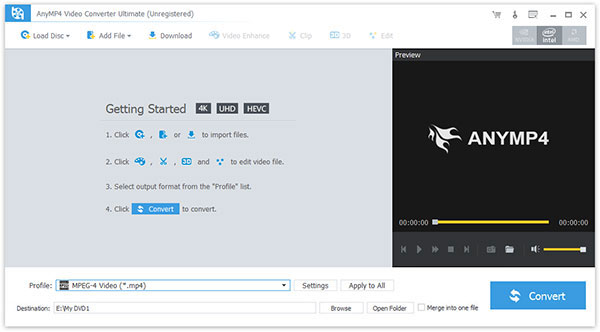 Step 2: Download PutLocker videos
Find the video you want to download and copy the URL of the video. Then turn back to the program, click on the "Download" button in the top of the screen to add the URL. After the program finish analysis, click on "OK" to start downloading.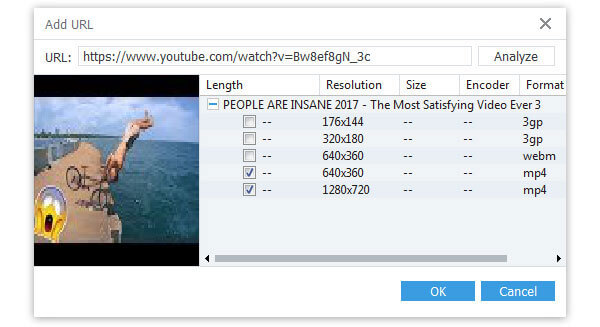 Step 3: Convert PutLocker to MP4
Choose the downloaded video in the library and drop down the "Profile" option to choose the output format. Then set the destination folder and tap on the "Convert" button to start conversion.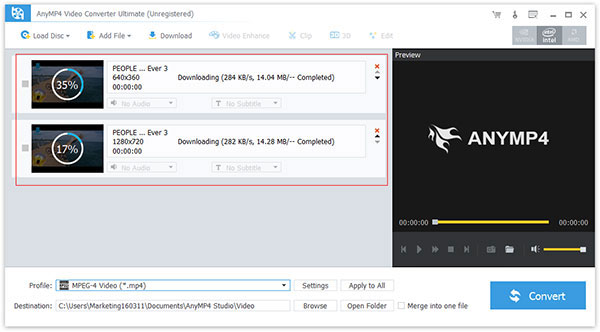 2. AnyMP4 Screen Recorder
Another effective way to get downloaded PutLocker video is recording the video with the help of screen video converter. Luckily, AnyMP4 can offer you a professional screen recorder. This kind of reorder allows you to record any kinds of videos without losing quality on computer such as streaming videos, games, Skype calls, etc. And in the process, you can set to record the system sound only or the microphone sound only. Additionally, you can do some flexible settings for recording. After finishing recording, you can save the PutLocker to MP4 format or WMV format.
How to Download PutLocker to MP4 with AnyMP4 Screen Recoder
Step 1: Download and install AnyMP4 Screen Recorder
Launch the program and find the video on PutLocker. Keep the screen on the computer you want to capture. Then select screen recorder to start recording.

Step 2: Select recording area and set settings
Customize the recording area according to the screen you are playing. And you can also set the definite aspect ratio like 1024*768 pixel. After that, set the audio source like system audio and microphone audio and adjust the time length that the video will last. Additionally, if you want to change the preference, just click on menu button on the top right of the interface.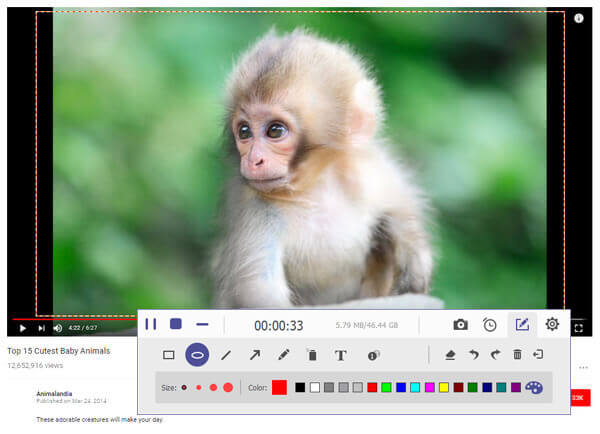 Step 3: Record PutLocker to MP4
After doing some settings, click on "REC" red button to start recording. And after finishing, you can view it before saving. Then click the "Save Video" button to your computer.

3. Video Grabber
Video Grabber is an online video downloader which is capable of downloading online stream from almost all mainstream sites like YouTube, PutLocker, Viemo, and so on. After downloading the video from PutLocker, you are able to convert PutLocker to MP4, WebM, MP3 and other formats. To know how to download PutLocker to MP4 with Video Graber, check the steps below:
Step 1: Copy and paste the URL of video
Enter the site of Video Grabber. Then find the video you want to download and copy the URL. Paste the video URL on the address bar of Video Grabber.
Step 2: Download PutLocker to MP4
Click on the "Download" button and choose MP4 as the output format. Few minutes later, you can enjoy it offline.

4. TubeOffline
TubeOffline is another online application to help you grab online streams from most of video hosting sites like PutLocker, YouTube, etc. Due to its simple and well-organized interface, you can easily get the operation of downloading PutLocker to MP4 within several glances. Apart from MP4 format, it offers you other target format such as AVI, WMV and so on. And follow the steps below to use it.
Step 1: Copy and paste the video URL
Find the video you want to download on PutLocker and copy the video URL. Then enter the TubeOffline site and paste the URL on address bar.
Step 2: Choose target format and start downloading
You are able to choose your preferred quality and the desired format. Then click on "Get video" button to start downloading.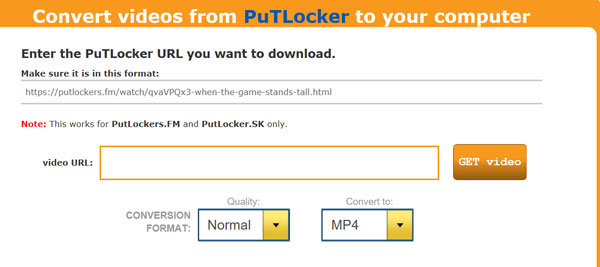 5. Video-download.co
The last way to download PutLockerto MP4 is to use video-download.co, another useful online downloader for downloading or converting a video/audio. It supports several audio (MP3, OGG, FLAC, etc.) and video (MP4, AVI, FLV, etc.) formats. Compared to other online application, video-downloader allows you to set the beginning and end time to customize your video. Next read on to learn the specific steps.
Step 1: Paste the video URL
Copy the video URL and paste it on the address bar on video-downloader.co. Then choose the option you need from "Video", "Audio", and "Advance". Additionally, you can set the start time and end time.
Step 2: Start to download
After a series of operations, click on "DOWNLOAD" to start.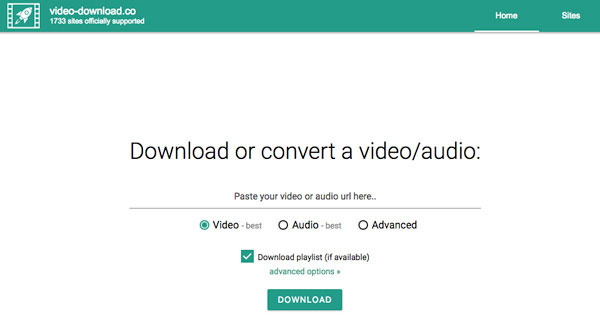 Conclusion
Downloading PutLocker to MP4 is not a tough task. Inversely, it becomes much easier with the help of these tools which have mentioned in this article. There are two kinds of software and three online downloaders. You can choose one you prefer to use. Hope it can benefit you.